The overall winner for the Infrastructure Category in the 2017 Fulton Awards was the Mount Edgecombe Interchange, submitted by SMEC South Africa as Principal Agent for the client, the South African National Roads Agencym (SANRAL).
The Fulton Awards, held every two years by the Concrete Society of Southern Africa, took place at a venue in the dramatic Drakensberg mountains on 3 June. Named for the late Dr Sandy Fulton, the awards continue to celebrate the legacy of scientific and technological advances in concrete within the built environment.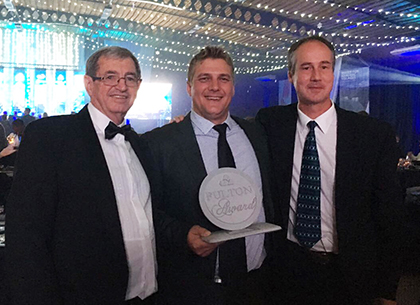 From left: Callie Coetzee, Senior Engineer, SMEC Durban; Gert van Schalkwyk, Professional Technologist SM; and Corne Roux, SANRAL.
The judges' citation stated that this project showcases the use of concrete in civil engineering infrastructure, encompassing nine new road bridges, one new pedestrian bridge, nine mechanically-stabilised earth walls, and three soil nail retaining walls.
It featured three simultaneous incremental launches, with a combined deck length in excess of 1.5 km, the longest incrementally-launched viaduct in the Southern Hemisphere, and three incremental launches being constructed simultaneously. This is a South African first.
It was constructed under difficult conditions, having to deal with maintaining the requirements of the heavy existing traffic demands within a congested site. Due to the vast scope, the wide variety of engineering disciplines and different construction elements, a total of 41 concrete mixes were designed for this project, as well as three different grout mixes, and two different sprayed concrete (shotcrete) mixes.
"South Africa's largest interchange, with its wide use of finishes, techniques, and elements, is a deserved winner of the Fulton Award in the Infrastructure Category," declared the judges. SMEC South Africa was also proud to be awarded a Commendation: Innovation in Concrete for the Pacaltsdorp Pedestrian Bridge.
This multi-span arch structure, supporting a stress-ribbon deck, with the shallow arches flowing across the highway, and the stress ribbon across the arch, is both unique and innovative. The design created an aesthetically-pleasing, self-anchored structural system that is semi-integral, with the practical advantage of no expansion joints.
Conventional formwork was used for the deck, with the soffit following simple circular curves.
"The fact that this bridge is thought to be a world-first for a concrete self-anchored, arch-supported, stress-ribbon bridge, and showcases how functional concrete structures can be a positive addition to the local environment, makes it worthy of a commendation in this category," the judges concluded.