Bryan Perrie, MD of The Concrete Institute, has received the Concrete Society of Southern Africa (CSSA) Inland Branch's 2017 Chairman's Award for his "tireless work in the concrete industry for more than 30 years".
Naming Perrie as the 2017 recipient of the CSSA Inland Branch's prestigious award at a function in Johannesburg recently, Johan van Wyk, chairman of the Branch, said apart from leading The Concrete Institute, Perrie is a global authority on concrete floors and pavements.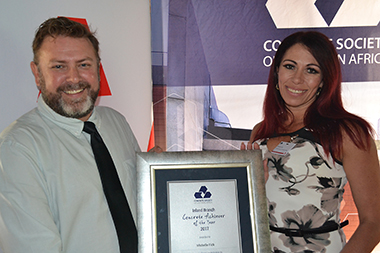 Popular and well-known Gauteng concrete industry personality, Michelle Fick, has been named "Concrete Achiever of the Year" for 2017 by the Inland Branch of the Concrete Society of Southern Africa (CSSA).
The recipient of this annual award is selected by the CSSA Inland Branch following nominations from its members.
In announcing Fick as "Concrete Achiever for 2017", CSSA Inland Branch chairman, Johan van Wyk, said she had been a valuable member of the CSSA Branch for many years.