Riaz Saloojee is the Executive Deputy Chairman and Group CEO of Concor Holdings and has overall responsibility and oversight of the Concor Group. He is a soldier by training and well experienced in the corporate world through his past leadership positions at SAAB, DENEL South Africa and the Swedish Defence and Electronics Company. He reports directly to the Board of Directors and shareholder representatives, and is responsible for the strategic direction of the Concor Group. Construction World asked him about the direction of the company, transformation and the status quo of the South African construction industry.
Riaz Saloojee, Executive Deputy Chairman and Group CEO of Concor Holdings.
How do you use your background in the military to benefit Concor?
The military teaches you discipline, focus and to lead from the front. It also teaches you how to be part of a team, and to be a role model for your troops. In that sense it is not different from the task at hand.
What is your definition of leadership?
It is the example you set for others – and is related to your value systems, ethics, morality, and how you conduct yourself in both personal and public spaces.
What is your main role?
My main role is to be the link between the organisation and Concor's Board of Directors from a governance perspective. The second is to ensure that there is business continuity and that operations are executed effectively, that projects are delivered on time, on budget and to the best of our ability. Lastly it is to find ways to grow the business within the strategic objectives set by the Board.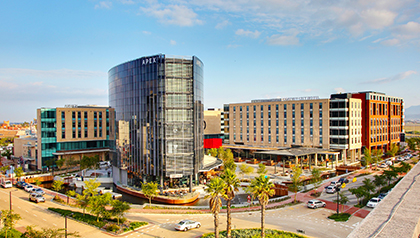 Century City Square in Cape Town.
What is the strategic direction of Concor?
This is based on a number of things. As a company Concor needs to maintain operational efficiencies as business continuity is vital.
The company has to be grown organically: We have to ensure that it is optimally structured and organised, that resources and assets are optimally utilised. The strategy is also to grow the business inorganically: How to use current capabilities to look at other business opportunities within the environment in which we operate. This may include strategic partnerships or joint ventures that can be entered into or acquisition targets that can reinforce and enhance Concor's value proposition as an infrastructure provider.
Lastly, the company has to be transformed to reflect the new ownership which now makes it the biggest fully transformed organisation in this environment. Concor wants to leverage its transformation credentials, but the organisation has to reflect the new strategic growth path that we have set for ourselves internally.
The new BCX facility in Midrand.
What sets Concor apart?
Concor is a unique organisation because it is focused on construction and infrastructure. It has not diversified into natural resources and other sectors. We have always been focused on the core business – and that is what distinguishes us. In addition, Concor has a long and rich track record which means that it has experience, the correct human resources and skills to tackle projects in and outside South Africa.
What are Concor's key focus areas for the short and long term?
In the short term the key focus is to stabilise the organisation as the economic environment is not conducive to investment. Government is experiencing challenging times in terms of resources available for investment in infrastructure programmes. It is not an easy environment, but it is a wave we have to ride.
In the long term our external strategy – our strategy into the rest of Africa – has to be more aggressive. By increasing our footprint into Africa, we can take advantage of the huge need for infrastructure as the continent develops. The development of economies and societies always begins from an infrastructure development perspective – without it there can be no economic or social development.
What are the challenges of a construction company in the South African context?
The eccentricities of the local and international economic and investment climate make for a difficult context. If economies are growing, GDP is good, there is employment, confidence and investment. If economies are being impacted negatively, whether it is due to local or international factors, companies have to be able to ride it out.
How can a company be agile in a difficult environment?
One can only be truly agile in this environment by creating the kind or organisation that can respond to the lean times and the good times. Agility is also the ability to respond to the needs of the client – whether it is the public or private sector – in an efficient and competitive manner, at the same time providing the efficiencies, professionalism and quality that is going to be the competitive advantage. In short: it is about being flexible, to downscale or upscale, and to provide innovative and competitive solutions.
Concor has a 'comprehensive strategy that aims to achieve meaningful representation'. Explain this.
In this sector, Concor is leading the initiative to effect meaningful transformation and empowerment, not only from a shareholding perspective, but in terms of reflecting the demographics of our country. The company aims to create an enabling environment within the Concor entity which will give opportunity to people to express themselves so that qualitative empowerment is created.
How challenging is achieving and maintaining the right level of skills in the construction industry?
It is vital. Although it is important that the optimal level of skills is necessary for the proficiency of the company, it does not, in any way, contradict our objective of transforming the company and skills base to reflect the demographics of the country. There has to be robust mentorship programmes, succession planning, skills development, and young talent identification. Although we place much emphasis on transforming the company, we do so in a responsible way so that it does not negatively impact on business continuity.
The country has historical legacies that we have to deal with, especially when it comes to skills. It is not only a responsibility of the government to address these issues, it is also the private sector's responsibility. In conjunction with government, we have to make sure that we allocate the resources to create an enabling environment to reduce the historical gap.
What does Concor mean with 'holistic development'?
Holistic development is not just the development of the company. It is also our contribution to the development of societies. When we talk about a 'developmental state', we want to create more jobs and we want to inject more investment into the economy, and we want to create greater opportunities for our people. It is an integrated approach of how to become a player in society – not just within the narrow confines of our industry.
How do you develop the communities in which you operate?
Within the imperatives of transformation and empowerment, it makes sense that you empower the communities in which you operate. This does not only entail temporary employment, but creating a sustainable environment going forward so that the skills that you are conveying and the supply chain that you are developing, will impart the knowledge and human capital that will be beneficial for future economic activity. We are committed to empowering such communities, but empowering them in a sustainable way.
How will Concor build a sustainable business?
You must have the confidence of your client base, something that you achieve by being consistently competitive, producing good quality, committed to transformation and when there is credibility in what you are doing. Concor is in it for the long haul – we are not here to reap benefits as quickly as possible.
One of the core principles for Concor – apart from adding value for shareholders and its employees – is that we contribute to the development of communities, societies and countries in a responsible way.
With all the factors that are impacting negatively on the environment we have got to be at the forefront of being a responsible industry player. This is non-negotiable.
Is there still a place for public private partnerships?
I think that there still is a significant role for PPPs where access to capital, resources and a strong balance sheet are prerequisites for the rollout of a megaproject. One cannot rely solely on government resources or private sector funding for infrastructure development – sometimes a project is so big, that one cannot do it alone.
What is Concor's cross border expansion plans?
Concor it is not merely looking for business opportunities in Africa, executing a programme and exiting. Our value proposition provides turnkey solutions, so the project has to be something that is integrated in a very real strategic partnership – a project with mutually beneficial employment and environmental benefits for all involved.
When will the industry see an upswing?
Although we are not there yet, the industry will start seeing a bigger injection into the economy from government with a more integrated economic development plan. This will give confidence to the economy and encourage local and foreign investment. It is not an easy environment at the moment and will take some time to rectify itself, but I am confident it will.