Cat Financial, a wholly owned subsidiary of Caterpillar Inc., recently established its newest legal entity to support customers in South Africa. The company today celebrated the opening of its finance office in Johannesburg.
Caterpillar Financial Services South Africa ("CFS SA") established its presence on 2 July 2, 2018 and has been ramping up to full business operations. The office is located in the Caterpillar Johannesburg Distribution Center, the company's aftermarket parts distribution facility for the region serving Southern Africa.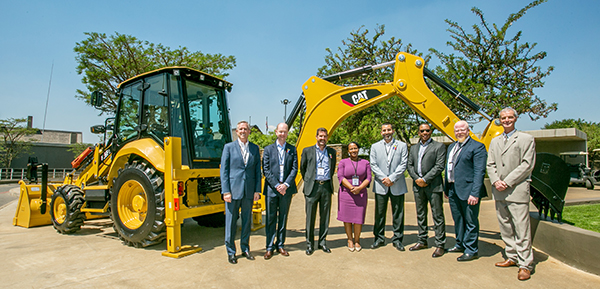 The facility also houses teams from the local Caterpillar district office and global mining.
"The presence of a Cat Financial office in Johannesburg not only helps facilitate
Caterpillar growth in an emerging market, but also further supports business development in South Africa, where Caterpillar has had a presence since 1927," said Caterpillar Financial Services South Africa Managing Director, Dave Brooks. "Our new subsidiary will broaden customer access to our Cat® machinery and equipment, furthering our support for emerging contractors and black industrialists as they compete and succeed. We look forward to working closely with South African customers and the independent Cat dealer Barloworld Equipment, providing a full array of finance products and tools to help them succeed in this market."
"The shift from large construction houses to small and medium size enterprises in the region has made deal finance a key customer requirement. The emerging customer does not always have the funds to close a deal and in most cases, has a limited track record and balance sheet to easily secure funding," said Emmy Leeka, CEO, Barloworld Equipment southern Africa. "We, therefore, welcome the broad spectrum of financial support that Cat Financial will enable us to offer our existing and new customers."
About Cat Financial
For more than 30 years, Cat Financial has helped customers make progress possible every day through financial service excellence. They are proud to lay the foundation for a healthy and successful business for customers in a variety of industries. With the backing of parent company, Caterpillar Inc., Cat Financial offers a wide range of finance solutions to customers and Cat® dealers for Cat machinery and engines, Solar® gas turbines and other equipment and marine vessels.
Headquartered in Nashville, Tennessee, Cat Financial is a local business to our global customers. With offices and subsidiaries located throughout North and South America, Africa, Asia, Australia, the Middle East and Europe, you can find Cat Financial anywhere progress is made.
From left: Dave Walton, President and Chief Executive Officer, Caterpillar Financial Services Corporation; Richard Kinsey, Vice President of Caterpillar Financial Services Corporation with administrative responsibilities for operations in Europe, Africa, Middle East (EAME) and the CIS;
Dave Brooks, Managing Director for Caterpillar Financial Services South Africa; Andronicca Masemola, Divisional Director: Finance – Barloworld Equipment Southern Africa; Mubeen Khan, Managing Director for Caterpillar Financial Services Corporation, Africa & Middle East Region; Emmy Leeka, Chief Executive Officer – Barloworld Equipment Southern Africa; Liso Steto, Chief Director: Black Economic Empowerment - Department of Trade and Industry (DTI); and Ian McCary, Acting Deputy Chief of Mission of the US Mission in South Africa.