Prince Moyo, General Manager, Power Delivery Engineering, Eskom gave the key note address at the opening of the Siemens Engineering Symposium. He spoke of Eskom's planned technology shift towards using natural plant oils instead of mineral oils in future transformers. A specification for all ester oil filled transformers will be available soon. Eskom will start using small ester filled transformers before moving onto larger transformers.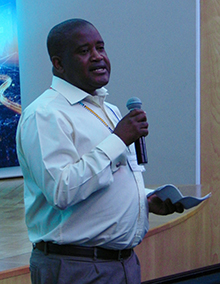 Prince Moyo, General Manager of Power Delivery Engineering (Eskom)
Moyo bemoaned the lack of manufacturing capabilities not only in South Africa but in Africa as a whole and said that the lack of local manufacturing in Africa is a weakness. He said, "I want factories here, I want research here, I want innovation here." He went on to say that we have not arrived until we manufacture locally.
A highlight of the symposium was the address by Ralf Christian, Global CEO of Energy Management, Siemens. He gave an overview of the future of energy management and spoke of the global trend of moving towards using electricity as the major form of energy - the development of the electric car being but one example.
Ralf Christian, Global CEO of Energy Management (Siemens)
Christian also spoke of the transformation of the consumer of electricity, be they industrial plants, infrastructural buildings or even domestic homes, into prosumers producing energy via renewable sources such as biomass, solar or wind. This renewable energy produced by the prosumers needs to be integrated into and controlled via the energy management system. Digitalisation will play a major role here.
The Siemens Engineering Symposium was held 2-3 November at Siemens Park Auditorium in Midrand. The theme for the two days was innovation and creation with special emphasis on high voltage products and substations of the future. The symposium was well attended.
Enquiries: Kalai Pillay KALAI.PILLAY@SIEMENS.COM