The Kenya Power Board of Directors has announced the appointment of Dr Ken Tarus as Acting Managing Director and Chief Executive Officer of the company with effect from January 4th, 2017. This follows the exit of Dr Ben Chumo at the end of his contract period on January 6th.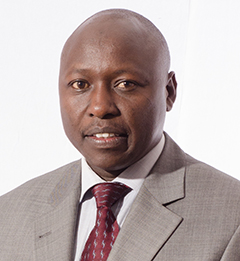 Dr Ken Tarus – Ag MD CEO
Chumo had been head of the company since January 2014 in a period characterised by exponential growth in customer connections and implementation of network improvement projects among other major corporate milestones.
Tarus, 46, brings to the post over 20 years' corporate leadership and management experience, five of which are in the energy sector. Prior to his appointment, he was Kenya Power's General Manager in charge of Finance and was a member of the executive management team for two years.
Between 2012 and 2014, he worked at the Rural Electrification Authority as head of Finance and before that he was Deputy Vice Chancellor for Finance, Planning and Administration at KCA University. He has held various leadership roles in the local banking sector as Head of Finance, IT and Administration at Bank of Africa, Financial Controller at Standard Chartered Bank and diverse positions at Kenya Commercial Bank.
He holds a Doctor of Philosophy degree in Business Administration (Finance) from Kabarak University, an MBA from the University of Nairobi and a Bachelor of Commerce Degree from the same institution. Tarus is a Certified Public Accountant and a member of the Kenya Institute of Management.
Kenya Power Chairman, Hon. Kenneth Marende, said the Board of Directors was confident that business operations of the Company would continue to run smoothly under the interim leadership of Tarus pending competitive sourcing for a substantive Managing Director.
"With full responsibility for the leadership and development of the Kenya Power's electricity distribution business, Dr Tarus will play a key role in entrenching the company as a leader in the electricity subsector by aggressively pursuing its business growth and diversification strategy," Marende said.
For more information, please contact: Kevin Sang
Ag. Manager, Corporate Communications
E-mail : ksang@kplc.co.ke