Eskom has been honoured with the 2017 Technology Transfer Award by the US-based Electric Power Research Institute (EPRI) for research they have conducted in shaping the future of electricity.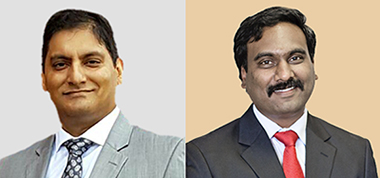 Sanjian Malapermal and Prathaban Moodley of the Eskom team that scooped a prestigious international award for research that they have undertaken
Eskom scooped top honours in the same category in 2016; the focus was in the field of distribution planning with distributed resources. Welcoming the award, Eskom's Interim Group Chief Executive, Matshela Koko, said: "This award testifies to the ground-breaking research conducted by our Research and Development team, which continues to create unique opportunities for the future of electricity."
Koko said that they have prioritised research activities under the Eskom Power Plant Engineering Institute (EPPEI) programme which has produced over 100 graduates at MSc and PhD level since its inception in 2012.
Koko emphasised that Eskom is being purposely repositioned to become one of the Top 5 performing utilities globally.
"We have the most versatile and robust engineering capabilities on the African continent and are well on our way to claim our place globally. We are extremely proud of our team for consistently achieving excellent results that put Eskom back on a global map," he added.
Echoing the global value of the award, EPRI President and Chief Executive Officer, Michael W. Howard, said: "Each year EPRI's Technology Transfer Awards recognise industry leaders and innovators at the vanguard of adopting new technology and spearheading the application of research findings. Those recognised exemplify the initiative, collaboration, and leadership that transform research into results. Nominations are received from EPRI staff members and companies, and winners are selected by their peers."
"Eskom is being honoured with a 2017 Technology Transfer Award. Please accept my congratulations to the Eskom team and in particular to Sanjian Malapermal and Prathaban Moodley for their integral contributions. On our behalf, please thank your entire team for their work in shaping the future of electricity," concluded Howard.
Enquiries: Email mediadesk@eskom.co.za