Schneider Electric offers the EasyPact CVS range of Class II, moulded case circuit breakers, which are precision engineered to help make installations safer and more reliable, while offering essential capabilities with exceptional quality and value.
Manufactured from premium materials in ISO 9001 and ISO 14000 certified production plants, the range of circuit breakers are fully tested and certified by national, international and third party organisations to all relevant safety standards.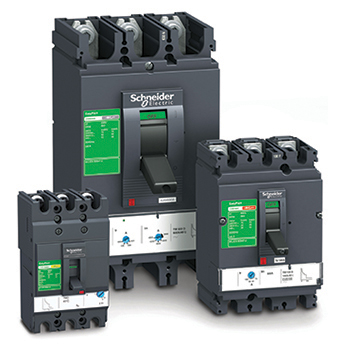 EasyPact CVS is the easy choice for most common electrical distribution applications in medium sized commercial and industrial buildings. They provide an exceptional feature set at their price point, including extended current limiting capacity and adjustable thermal protection.
As a cost-effective investment, customers pay for only what they need and do not have to settle for lower grade alternatives. With simplicity of selection, purchasing, stocking and installation designed into every breaker, the range delivers unbeatable value throughout their life cycle.
Boost uptime and cut costs
This range is both fast to install and easy to use, as well as offering the utmost in operational safety. Engineered to match common electrical distribution applications, the range delivers exacting design and a focus on scrupulous manufacturing quality to ensure it remains cost-effective over the long run.
"Construction and upgrade budgets have become much tighter," explains Christo Janse van Rensburg, Offer Product Manager (Low Voltage Power Breakers) at Schneider Electric South Africa. "The new range of circuit breakers will help contractors adapt to customers' budgets, while delivering required capabilities and the brand quality of a global leader in energy management and protection. The range leverages our expertise in precision design and manufacturing for our customers."
Adjustable thresholds and a service breaking capacity rated at 100% of the ultimate breaking capacity enhance the reliability and life cycle of the products while reducing servicing costs. Its compact, modular design and field-installable accessories shared with other offer ranges help to simplify ordering, stocking and installation.
The robust circuit breakers are suitable for isolation, guaranteed to the IEC 60947-2 standard, and provide a highly visible and lockable contact position indicator to ensure operator confidence. Extended current limiting and thermal protection can greatly reduce the stresses on equipment due to short circuits and their associated effects. Earth leakage protection can be added by installing a Vigi CVS option module. In the event of a circuit fault, simple visual indicators help maintenance personnel quickly locate the tripped breaker and take steps to correct the problem.
"To ensure a low total cost of ownership, the range features a modular design that adapts to changing needs. Basic accessories and a logical part-numbering scheme are shared with the rest of the company's MCCB range, helping optimise stocking while reducing effort and the potential for ordering errors. Products in the range also feature a compact footprint similar to other Schneider Electric MCCB ranges, which can help reduce switchboard dimensions and installation times," concludes Christo.
Enquiries: Visit www.schneider-electric.co.za