An interview with Johan Basson, JB Switchgear Solutions' Managing Director, Johan Basson. The company's symbol – the Eagle – represents Vision, Focus, Strength and Intelligence – attributes which permeate through this company.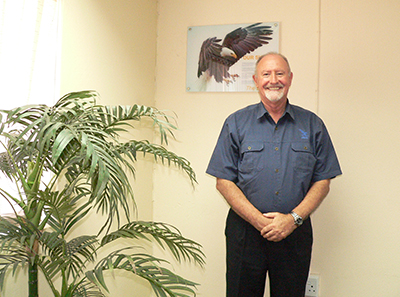 Always a hard worker with goals and ambition, Johan Basson has built a company of people who themselves are hard workers, with goals and ambition. This is what is encouraged in JB Switchgear Solutions. SO passionate is Johan about development in the industry, that he came out of retirement to set up JB Switchgear Solutions … 'with a vision to prove that in South Africa we have the competence, skills and capabilities to realise the potential that lies locked up in this country'.
As an employer, what is your vision?
Over the last five years, especially, for businessmen and industrialists, the operating environment has become difficult because of the economic, political and unemployment challenges that we have in this country. I hope to leave behind empowered young (previously disadvantaged) people, who are educated and confident enough to reach the ideals to which they aspire.
To do this at the same time as we are servicing the needs of our customers, we create a platform for our employees to grow and develop careers that can take them forward into success; success that encompasses personal growth, community growth and country growth. Each of us asks at some time in our lives: What difference can I make as an individual? Well, one person cannot change the world, but one person can change the world for somebody. It starts with small steps which eventually lead to the ultimate objective.
Explain your Enterprise Development Programme
We have a powerful Enterprise Development Programme with the aim of growing industrial and commercial power and knowledge. We employ around 100 people. Forty to 45% of the people in this company are candidates that we have selected from our Enterprise Development Programme.
We train and assist them financially to build their own businesses and then we use them to do our business. The skills that they learn include technical skills – an area in which in this country we are lagging.
In the last 20 years there hasn't been as much training as there should have been from industry. In the past, big parastatals and companies like Eskom, Sasol and Iscor had huge training programmes.
Consider the fact that the average age of a qualified artisan today is 57 years… old 'grey beards'. We are simply not training sufficient artisans.
At JB Switchgear Solutions we train a number of artisans… including women. Historically women were not well represented in engineering disciplines. It was unusual for a woman to become an engineer, electrician or hold any other technical position. This has changed and we have six women who have either University or Technicon qualifications who we are training in engineering disciplines such as testing, MCC design, estimation, project management – a host of disciplines. And this is going very well.
If you put something in place that works well – it generates more enthusiasm and growth and it feeds on itself. Knowledge is power, after all. If you empower people, they blossom. Our trainees are so receptive; they want to gain knowledge and skills. In addition, they take back this positive experience into their communities. If you have 100 employees – each individual is part of a structure that supports three or four people at home. So as an employer, you are actually looking after 400 or 500 people. The knowledge that one is playing a role in nation building is very rewarding.
Tell us about the technical side of your business
We started off by concentrating primarily on electrical distribution and motor control. However, the trend over the last 10 years has been on the 'Total Solution'. To avoid multiple interfaces, end-users, project houses and consultants request total solutions. We provide all aspects of electrical turnkey solutions – MCCs (Fixed, De-mountable and Withdrawable) Containerised and pre-fabricated modular substations, Equipment for renewable energy projects, Floor-standing heavy duty distribution boards, Distribution boards, kiosks and pillar boxes, PLC and marshalling panels, VSDs and softstarters, Remote I/O boxes, 19" rack panels, Control desks, Special enclosures, Standard enclosures,
Custom control panels, Field isolators and junction boxes, Electrical spares and equipment. Sixty percent of what we do today is solution provision. We don't do everything ourselves – we partner with OEMs and we can do this because we are independent and flexible.
What competition do you have?
There are a reasonably large number of competitors – JB Switchgear is probably positioned as one of the top three in our field of business. We are very strong in the Mining, Metals and Minerals (MMM) sector. This is traditionally where we have moved and where we do most of our business. Other industry sectors, water treatment for example, have become popular as we all know that water is the country's next big crisis. Water reticulation, water treatment, dams and boreholes – these areas are becoming increasingly important for us. We are also active in other industries – automotive, cement, power generation, petrochemical; whilst approximately 75% of our business comes from MMM – the actual growth is coming from other sectors.
Do you do business out of South Africa?
Possibly 60% of our work is destined for sites outside the country's borders. We have done projects all over the world … we are currently working on a large project for an Australian mining company – Mount Pleasant. All the boards and the switchgear for the project are being manufactured in South Africa – because we're competitively priced. African countries that we have worked in include DRC, Mali, Ghana, Botswana, Sierra Leone, Zimbabwe, Zambia … we have done projects all over the continent.
What makes JBSS stand out from the rest?
One of key aspects of our offering is technical compliance with National and International standards. In doing work for international markets, such as the Australians, we found that the focus on safety features on equipment is very strong. In South Africa, this is an area that has not really enjoyed as much attention from local manufacturers; however customers are becoming more critical and selective as to what they will accept and the situation is changing. If you look at high level or visibility projects when you're dealing with big international companies – there is no compromise on safety and performance. I am, personally involved in technical committees, working groups, SABS and industry associations to ensure that we are up to date with the latest trends, developments and standards. And we offer advice and guidance to customers, consultants and project houses when required.
Most exciting project
Every project is exciting in one way or another and usually includes a wide variety of disciplines and products. A very successful and satisfying project was providing a total solution for a new diamond mine in Lesotho, Liqhobong. Access to the site was difficult as it was high up in the Lesotho Mountains. The mine was commissioned ahead of schedule and it all came together very well.
Finally
I have two points to make in my 'Recipe for success':
You need to be a good listener. The best salesman is the person who listens best. Your customer knows what he wants.
If you make a promise – you must keep it … whatever it takes.