Schneider Electric South Africa, the global specialists in energy management and automation, celebrated its fifth annual Global Environment Event at the Pastoral Centre Pre-School and Crèche, in Kliptown, Soweto.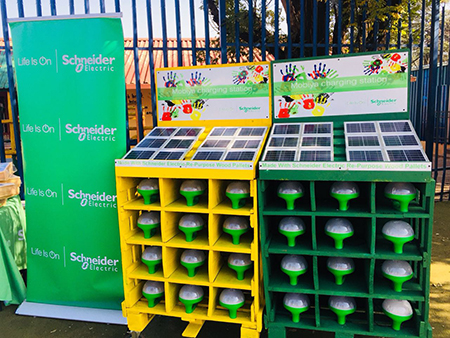 Joining in the movement to support Earth Overshoot Day, Schneider Electric South Africa has taken the pledge to #MovetheDate. Earth Overshoot Day marks the date when, according to Global Footprint Network, humanity's demand for ecological resources and services exceeds what Earth can regenerate in that same year.
"As a company, we are doing what we can to #MovetheDate of Earth Overshoot Day to December 31. Schneider Electric is aware of its responsibility to support economic and social development while reducing its environmental footprint, leveraging green innovations and taking actions towards a responsible industrial economy," says Zanelle Dalglish, Schneider Electric Anglophone Africa head of sustainable development.
"Our focus for this year's Global Environment Day will be to contribute positively to the environment, while addressing the needs of the underprivileged and providing them with sustainable access to the economy as well as sustainable food sources."
Highlighting this commitment to access to energy and access to education, Schneider Electric South Africa has returned to the Pastoral Centre Pre-School and Crèche where they have previously donated a solar solution to provide energy for appliances required to operate the school, as well as solar lighting. The extension of the project will provide a donation of Mobiya charging stations that are made from repurposed wood pallets from its warehouse. These charging stations consist of twelve cubes to hold Schneider Electric Mobiya solar lamps, with the solar panels used to charge them located at the top.
"A green and safe alternative to candles and paraffin lamps, the crèche will use these Mobiya charging stations as an entrepreneurship opportunity to generate some income for the school, as often these parents are unable to afford their already low school fees," Dalglish explains.
The Mobiya lamps produce 170-lumen light output – nearly 11 times the intensity of a kerosene lamp – and provides up to 48 hours of light when charged for just one day. These lamps, also capable of charging a mobile phone, will be rented out monthly, at a reasonable cost, to interested community members or parents of children attending the crèche.
"This will bring a safe and green lighting solution to the homes in this community, and charging and renting the lamps will be very practical, as consumers can bring the lamps to charge them at the Mobiya charging stations at the school."
On Global Environment day, both children and teachers received a high-level overview of the Mobiya lamp and were educated on how to practically use the lamp. The teachers also received entrepreneurship training to ensure that they take full advantage of the Mobiya charging station business opportunity.
Schneider Electric South Africa also donated seedlings, seeds and gardening tools, while their Sustainability Fellows gave a lesson on vegetable gardening, planting seedlings with some of the children. Further donations to the crèche included stationery and mini scooters, and Schneider Electric South Africa employees held a toy drive, where the toys were donated on their behalf.
Schneider Electric South Africa first started working with the crèche in 2016, when it provided a micro solar solution. Through this solution, the 150 pre-schoolers were able to enjoy light in their classrooms and staff had the opportunity to store food in a fridge. They were also able to add a television and computers to the micro solar system, to raise the level of education, and solar streetlights were installed outside the crèche.
"Worldwide, there were 1,744 pledges to #MovetheDate in 2017. We are very excited to be a part of this initiative, as well as serving the communities around us, ensuring that they receive the maximum benefit of this green technology. We hope that more South Africans will join us in celebrating Global Environment Day and helping us #MovetheDate in 2018," Dalglish concludes.
About Schneider Electric
Schneider Electric is leading the digital transformation of energy management and automation in homes, buildings, data centres, infrastructure and industries. With global presence in over 100 countries, Schneider is the undisputable leader in Power Management – Medium Voltage, Low Voltage and Secure Power, and in Automation Systems. We provide integrated efficiency solutions, combining energy, automation and software. In our global Ecosystem, we collaborate with the largest partner, integrator and developer community on our open platform to deliver real-time control and operational efficiency. We believe that great people and partners make Schneider a great company and that our commitment to innovation, diversity and sustainability ensures that Life Is On everywhere, for everyone and at every moment.
For more information, go to www.schneider-electric.co.za.