On July 24 VEGA hosted a group of industry representatives at a Technology Training session featuring the innovative VEGA Inventory System, developed specifically for inventory monitoring in liquid tanks and bulk solids silos.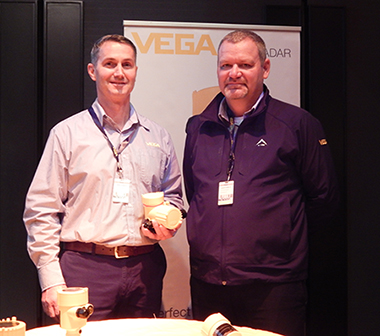 Russel Astley, Business Development Manager VEGA Inventory System with VEGA Managing Director, John Groom at the Technology Training session.
The software works in conjunction with instruments that continuously measure the levels of diverse liquids (e.g. water, chemicals, fuels, lubricants, additives and liquid gasses) as well as bulk solids (e.g. cement, grain, powders, granules and pellets).
Increased security of supply
With the web-based platform Vega Inventory System, users can keep an eye on their inventories at all times – locally and globally.
The automated flow of information within the company or between partner companies creates transparency early on for the supplier – and security of supply for the purchaser.
VEGA Inventory System makes a strong link out of something that has often been seen as a critical weakness in the supply chain.
Better planning capabilities
VEGA Inventory System reports supply needs automatically and on time. The software draws not only on current measurement data from the inventory, but also on historical data gathered from consumption trends. Monitoring and planning tools support optimised inventory demand analysis and delivery scheduling.
Which instruments are needed?
Reliable, precise measuring instruments are essential for automated inventory monitoring.
VEGA Inventory System is compatible with measuring instruments from other manufacturers, however, these must be connected to a VEGA signal conditioning instrument.
Up to 15 instruments can be connected via HART multidrop. For mobile silos there is PLICSMOBILE, which transmits the data via the mobile network.
AREAS of application
VEGA Inventory System ensures reliable resupplying of storage containers at different locations. There are numerous potential applications. It can ensure, for example, that petrol stations never run out of fuel or diesel additive or that construction sites are always adequately supplied with cement.
Advantages
Simple installation with integrated mobile solution.

Low investment costs for integration of measuring instruments through HART multidrop concept.

A simple power supply is sufficient: normal mains supply, batteries or solar panels.
For further information contact VEGA: Tel. +27 (0) 11 795 3249 or visit www.vega.com