Machine safety can often be a complex and daunting undertaking. However, the selection and implementation of an easy-to-use and flexible safety controller can make it that much easier to get your system up and running quickly with minimal downtime. It will also allow you to easily expand and adapt to future needs.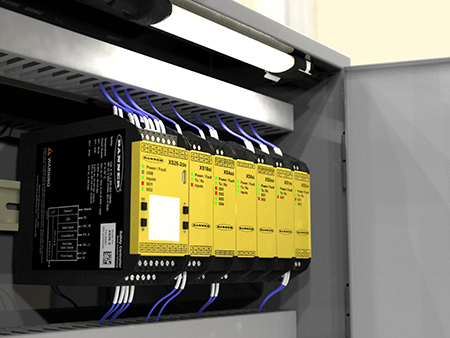 The following five key features to consider when selecting a safety controller will save you time and while, as well as help ensure that operators are using the safety system correctly. As with any safety application, you should consult a safety expert about your specific application requirements.
1. Intuitive programming
An icon-based, drag-and-drop user interface reduces the learning curve and speeds up commissioning. This also makes it easy to rapidly modify and update the configuration when changes are needed. Note that many safety controllers have password protection to ensure only authorised users are able to make changes, reducing the risk of operators bypassing the system.
The XS26 expandable safety controller from Banner includes software with a seamless user interface for setting up and managing safety systems. The XS also has a built-in display and a micro USB connection to easily connect a PC or download a configuration from the XM memory card.
2. Automatically generated wiring diagrams
A safety controller interface that automatically generates wiring diagrams speeds up installation. Once you have set up a safety system configuration in the safety controller software, safety controllers like the XS and SC from Banner will automatically provide wire diagrams of your configuration, making it easy to commission your configuration.
3. Live simulation
Live simulation allows users to test configurations quickly. When choosing a safety controller make sure to find one that offers a simulation mode that allows you to quickly test new configurations and changes prior to implementation.
4. An expandable controller
Having a safety controller that can expand when you need it ― especially with last minute changes ― allows for the required agility to meet deadlines and quickly implement changes.
In addition, an expandable safety controller lets you increase the number of inputs with expansion cards as safety devices get added. You can also increase the number of outputs with expansion cards as the need to safely control the machine changes. Here again, intuitive programming is important and helps make it quick and easy to implement changes.
5. Real time fault monitoring
Select a safety controller that can communicate with your PLC via Profinet, Modbus, TCP/IP, PCCC, etc. This allows remote monitoring of safety devices and will ensure that you are notified as soon as an issue arises with the safety system. In addition, with configurable IO, inputs can be changed to non-safe outputs to control indication lights for local notification of a fault.
For example, XS26 and SC26 safety controllers can communicate via Profinet, Ethernet/IP, Modbus, and PCCC up to 256 virtual status updates to a PLC and/or HMI that can be stored and tracked for future analysis. Furthermore, these controllers can also receive up to 80 virtual non-safety inputs to remotely turn safety devices or indicators on and off, enable mute functions, cancel off-delays, initiate a reset, and accomplish other tasks quickly and easily in the HMI without complicated programming.
Enquiries: Brandon Topham. Email Brandon.topham@retautomation.com