Standard Bank's astute CEO, Sim Tshabalala shares his views on the current political and economic climate with staff in an internal memo. What he says is relevant to us all and we feature some of the highlights.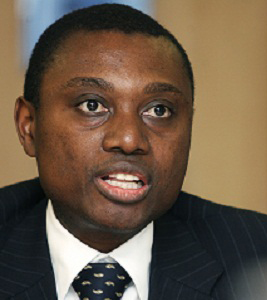 "Last year ended with great tumult in our political economy and that tumult continues to affect the markets. This year, however, has begun with intense controversy around racism, redress and free speech. While touching on some political economy issues, this letter focuses on the racism controversy.
It is my hope that all these events have jolted us all onto a new and better path. Let us walk that path together. I am writing this to you as a black South African. This is an unashamedly personal message with all the history and emotion that comes with that. But I am also writing it as a citizen of the world and as your Chief Executive - as someone who has the honour to lead Standard Bank, a good corporate citizen of South Africa that has become a major multinational corporation.
The events of the past few days have reminded us that South Africa is still a deeply wounded country. South Africa has made great progress since 1994, but the damage caused by centuries of colonialism and decades of apartheid has not been eradicated in twenty-two years.
Most black South Africans — and most Africans in particular — remain severely disadvantaged compared to white South Africans. 4% of adult Africans have a tertiary qualification; 25% of white South Africans do. Throughout the South African economy, 70% of top managers and 59% of senior managers are white. The unemployment rate among Africans is 28.8%; among white people it is 5.9%. 61% of white South Africans live in households that spend more than R10 000 a month; only 8% of Africans can spend that much. 16% of Africans live in extreme poverty and regularly suffer hunger; 99.9% of white South Africans are better off than that.
Even those of us who have become prosperous and successful still bear the painful scars of apartheid in our memories. And we still see its enduring damage every day in the lives of our families and our friends.
Transformation is not a choice. We are committed to transformation by the aspirations and values expressed in our Constitution. We cannot honestly claim that 'Africa is our home, we drive her growth' unless we are committed to transformation in South Africa.
Furthermore, transformation is a commercial imperative for the Group. South Africa's extremely high level of inequality creates grave risks to the quality of our politics, to the strength of our institutions and to the stability of our society.
Therefore, all of us at Standard Bank — and, indeed, all South Africans — must continue to work hard to transform our economy and our society. Our Constitution binds us to do this; our South African patriotism and our commitment to Africa demand it; and our interest in the profitability of our group and in the well-being of our fellow South Africans, our friends and families compels it.
Transformation absolutely does not mean that there is no place for white staff or that white South Africans cannot expect to enjoy rewards due to hard work and skill. What it means is that all of us — black and white — must do everything we can to create a demographically normal society in which everyone has a fair opportunity to succeed. To build this better world for future generations of South Africans, a little patience and a degree of sacrifice is required from all of us. This is not an extraordinary burden. Mature and responsible people understand that careful future planning and self-restraint are required everywhere and at all times.
Anyone of any ethnicity — African, Chinese, Coloured, Indian, White, etc. — can be a victim of racism. Let me be clear: Racism against anyone is always totally unacceptable and inexcusable. The same is true of sexism and of prejudice and discrimination on grounds such as religion, sexual orientation or disability.
Standard Bank does not tolerate racism in any form, no matter how 'casual' or 'trivial.' What I have said about inequality applies equally to racism. This new dialogue is a moral imperative, but it is also a commercial one.
I believe, more than ever, that our individual futures depend on our collective future."
Source: goodthingsguys.com