Almost 27 696 land claims have been lodged through the mobile lodgement offices since the introduction of the service last year.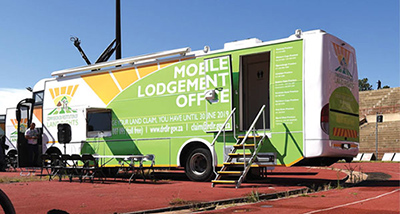 Government, through the Commission on Restitution of Land Rights, introduced the mobile offices to reach remote rural communities during the land claims process. The claims process allows people who were removed from their land under apartheid rule, but who missed an earlier deadline, to lodge claims for compensation until June 30, 2019.
It has been estimated that 3,5 million South Africans were forcibly removed from their land as a result of the Native Land Act of 1913, which effectively reserved 87% of land for the country's white minority.
By visiting these remote rural areas, the six mobile offices in Sol Plaatje, Gemsbok, Mabulandila-Vulindlela, Inkanyezi, Maropeng and Thembekile, the commission has provided relief for families who otherwise would not have had the resources to travel to the 14 lodgement offices in the country's nine provinces.
Chief Land Claims Commissioner Nomfundo Ntloko-Gobodo said, "The decision to reopen the lodgement of land claims was informed by the fact that many individuals and communities, who qualified to lodge land claims, did not lodge due to lack of awareness of the programme.
"We are quite pleased with the progress made so far in reaching people in far flung rural areas through these mobile lodgement offices," Ntloko-Gobodo said.
As a result of the intervention of the mobile lodgement offices, Ntloko-Gobodo said she was confident that they would reach a significant number of prospective claimants by June 2019.
Ntloko-Gobodo said that since the introduction of the Restitution of Land Rights Amendment Act in July 2014, 143 720 new claims had been lodged with the commission across the country as of March 31, 2016.
For further information on what is required to lodge a claim, visit the Department of Rural Development and Land Reform's website: www.drdlr.gov.za