With interest rates having risen further earlier this year, and the inflation rate in the bond instalment value on the average priced home rising in double digits early in 2016, it is likely that residential demand will slow further in the near term, according to FNB. The bank believes that wage inflation is unlikely to keep up, and slower average house price inflation is therefore still a likelihood.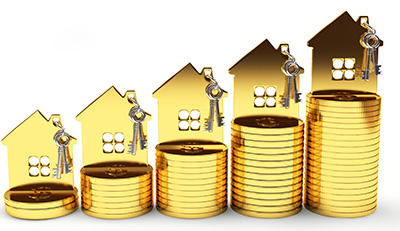 The FNB House Price Index for April 2016 rose by 6.4% year-on-year, according to a statement released by the bank. This is slightly faster than the revised 6.3% rate recorded for March, stalling a prior gradual slowing trend since the 6.9% high reached in October 2015. The mild acceleration in April is not significant, but does stall the trend of slowing to lower single-digit price growth which FNB would expect on the back of rising interest rates.
In real terms, when adjusting for CPI (Consumer Price Index) inflation, the rate of house price growth hugs the zero level, having recorded zero in March. This, says FNB, is the result of a combination of 6.3% average house price inflation and 6.3% Consumer Price Index (CPI) inflation. Zero percent real house price inflation would suggest a market still very well balanced between supply and demand.
The average price of homes transacted in April was R1,061,075.
"Examining the longer term real house price trends (house prices adjusted for CPI inflation), we see that the level as at March 2016 was +5.3% up on the October 2011 post-recession low.
However, the average real house price level remains -18.3% below the all-time high reached in December 2007 at the back end of the residential boom period," the statement said.
"Looking back further though, the average real price currently remains 67% above the January 2001 level, around 15 years ago, and a time back just before boom-time price inflation started to accelerate rapidly. We therefore still regard current real price levels as very high."
In nominal terms, when not adjusting for CPI inflation, the average house price in March 2016 was 293.7% above the January 2001 level.
However, the FNB Valuers Market Strength Index (MSI) indicates a still well-balanced market. The Valuers' Residential Demand Rating was at a level of 55.11 in April (on a scale of 0 to 100), while the Supply Rating was at a lesser 53.8. This translates into an MSI of 50.65, with the level of above 50, implying that residential demand is still stronger than supply.
"Therefore, it should not be surprising to see FNB House Price index inflation at near to 0% in real terms, which reflects a still well balanced market. But the valuers continue to point to a weakening demand-supply balance, and if this trend should continue, it would probably ultimately imply a move to slower house price inflation," the bank said.