The City of Cape Town Executive Mayor, Patricia de Lille, handed over 45 title deeds for residents of Steurhof at the South Peninsula High School.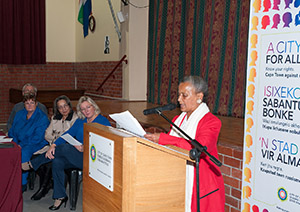 From left to right: Marlene Coezett with Patricia de Lille; and Desiree de Lange gives a vote of thanks.
Last year, the City of Cape Town Council signed Agreements of Sale with Steurhof residents, who won their land claims. The Regional Land Claims Commission together with the City of Cape Town, started the process of securing full property ownership for residents.
De Lille says that the title deed registration has now been completed at last. "This was an incredibly long and challenging process for the City, but we kept going because we saw it as a chance to right some of the wrongs of our past. Building an inclusive city is one of the most important things that we have set out to do. Fundamental to this process is a commitment to redress and reconciliation."
She added, "We need to do everything we can to give all the people of Cape Town a sense of belonging. We have been working hard to eradicate the backlog which exists with title deed transfers linked to older housing projects".
In 2012, the city identified 25 000 title deeds for transfer and more than half have been completed.
De Lille says, "When people become property owners, they can unlock other economic opportunities and credit worthiness increases. New owners stand to benefit from the return on investment on an appreciating asset, not only for the improvement of their own lives but also those of their children."