The latest outdoor EGLO range, distributed exclusively by Eurolux locally, will liven up any outdoor entertainment space with striking, elegant lighting.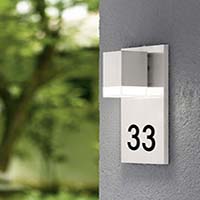 The Sevilla round wall light has a galvanised steel finish and satin glass shade. The brushed silver look lends an industrial feel that suits contemporary and more traditional spaces equally well. It is a robust, highly weatherproof outdoor light and comes with a 15 year manufacturer's guarantee against corrosion. The 40 W lamp is dimmable and rated to IP44.
The energy efficient Pardella light comes in a galvanised steel finish and a white powder coat shade. This sleek wall mount has a light reflecting surface that projects from an oblong secondary front mounted light emitting head, causing light to be scattered effectively.
The Beverly wall sconce features a frosted, opal glass shade to diffuse the incandescent light and create a warm ambience in a patio or backyard area. This lamp has a standard, wall-mount design and can be installed in wet or dry places. Its silver components add a touch of sophistication to the design and it is easy to install, offering excellent weather resistant qualities.
The webbed effect of the EGLO Laterna will add old world charm to any outdoor space. It can be used as a ceiling or wall lamp, and features a circular shape, black web finish and white opal glass shade. Offering an IP54 rating with a projection range of 140 mm, this luminaire is designed for outdoor use.
The EGLO City light fixture has a curved, galvanised steel body with rectangular cut-outs and a white, frosted-glass shade. The contemporary feel of the lamp can be used to complement any outdoor décor and it is ideal for lighting up an outdoor deck, patio or walkway. It offers a standard, wall-mount design for easy exterior installation in dry or wet locations.
To view the complete range of EGLO products visit www.eurolux.co.za