Lightemotion, an independent lighting firm located in Montreal, is known for its large-scale lighting projects on five continents. In the past year, the company has been awarded three IES-Montréal Lumière 2015 Illumination Awards by the Illuminating Engineering Society of North America (IES).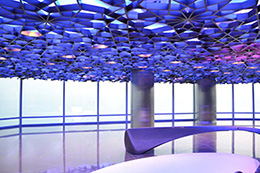 The lighting design concept for the Burj Dubai Mall Expansion garnered Lightemotion the interior lighting Illumination Award. Mandated by the firm gsmprct to highlight its interior design, Lightemotion needed to create a specific signature for the 125th and 148th floors of the tallest building in the world. These two areas include a luxurious lounge, an upscale boutique and a huge 360 degree observatory.
For its iconic illumination of the Complexe Desjardins Lightemotion was distinguished with the architectural Illumination Award. The challenge for this project was to find a timeless signature unique to Desjardins, and the outdoor lighting had to be harmonised with the interior lighting master plan created by the firm in 2008.
Authorised by the City of Quebec and the Quebec Tourist Information Center, Lightemotion created the winter illumination of Cartier Avenue. Resembling Chinese lanterns, this vast forest of 34 lampshades, inspired by the works of Alfred Pellan and Fernand Leduc, was the winner of the outdoor lighting Illumination Award. The company chose to create a virtual gallery of artwork that could be changed every year, a concept that will extend to other arteries.
Focusing on the needs of its customers, Lightemotion sets itself apart from other lighting design companies by its multidisciplinary team and its artistic approach to client solutions.
Lightemotion: www.lightemotion.ca
Image Credits:
Cartier Avenue (Image: Patrick Mével)
Burj Dubai Mall (Image: gsmprct)
Complexe Desjardins (Image: Martine Doyon)