Introduced in 2012, the Philips Hue light bulb started a transformation in 'personal wireless lighting'. Swedish home décor specialist IKEA is now taking the concept to the masses with the introduction of its own smart lighting collection.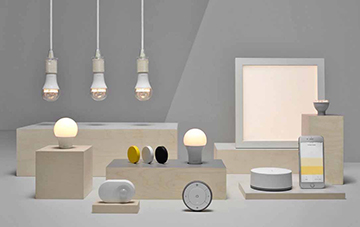 Launching officially in Europe in April, the range features energy-efficient white LED lamps, light panels for walls and ceilings, and light doors that can be built into IKEA's METOD kitchen. All of the lights can be controlled using an app on a phone or tablet, or a remote control device. IKEA has also introduced a wireless motion sensor.
As well as being able to switch lights on and off, and dim and schedule them remotely, IKEA's solution allows some customisation. The smart lightbulbs and the light doors and panels can transition between warm and cool white light on command, and the company is intending to include 'Away from Home' functionality that will allow users to monitor and control their smart lighting from any location.
Called Trådfri, which means 'wireless' in Swedish, IKEA's vision is to "bring affordable home furnishing solutions to many people. We know from research that existing smart lighting technology is perceived to be too expensive and difficult to understand, so we have worked to remove those barriers to make smart lighting more accessible," IKEA Home Furnishing expert Helen Longford said in a statement.
The range, which includes a gateway kit containing Trådfri lamps, a remote dimmer switch puck, a motion sensor kit, and dimming lights, is based on the ZigBee Light Link standard. Intended to be "a global standard for interoperable and very easy-to-use consumer lighting and control products, allowing consumers to gain wireless control over all their LED fixtures, light bulbs, timers, remotes and switches," ZigBee Light Link is also the foundation of the Philips Hue range.
The Trådfri gateway connects to a router via Ethernet, and the lamps are controlled by the app, which offers personalised and user-created pre-sets of warm or cool light. The white spectrum dimming kit, however, requires the use of the handheld puck control. This allows change in colour to one of three settings – 'subtle and strong warm white light' – with a simple twist.
The standard Trådfri lamps are dimmable LED lights with three colour temperature options: 2200 K, 2700 K, and 4000 K. The dimmer switch can work independently from the connected system and is available in black, white and yellow.
https://www.youtube.com/watch?v=uPdVreDyeGs&feature=youtu.be
https://www.youtube.com/watch?v=NFUbZqcohdc&feature=youtu.be