It's a fact of life that all bearings, even the most highly engineered, will eventually wear and require either repair or replacement. In this article, Rudolf Groissmayr from SKF explores the options for engineers working in the paper and pulp industry.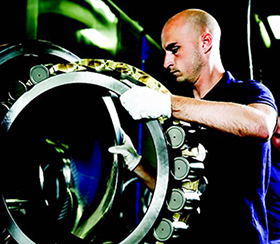 Bearings are critical components that are used heavily in both pulping and paper production machines. Buried deep in the heart of each machine, they ensure that rotating parts move smoothly, efficiently and with minimal friction.
In many instances, bearing designs are highly specialised to meet demanding conditions; for example, operation in areas such as suction rolls where there is constant exposure to moisture, or in dryer sections with high levels of humidity and heat. Installed and maintained correctly, and protected by appropriate lubrication systems, bearings should provide a long and trouble-free operating life.
Unfortunately, it is not always possible to maintain bearings under ideal conditions, as bearings expert and SKF business unit man- ager, Rudolf Groissmayr, explains: "Bearings can wear prematurely and fail unexpectedly for many different reasons, the most common causes including poor or incorrect lubrication, failed seals, misalignment of shafts, and changes in machine operating conditions. These often arise if attempts are made to increase line speeds or steam temperatures in dryers as a means of improving output; how- ever, this can move the bearing performance envelope outside its original specification."
Although it is unusual for a bearing to fail unexpectedly – the latest condition monitoring and oil analysis systems should provide sufficient advance warning to prevent such an occurrence – it is common to find bearings suffering from indentations and micro-fissures in rolling surfaces and raceways that, over time, affect the performance and efficiency of the bearings and thus of the shafts or cylinders that they support.
Ultimately, regardless of how carefully engineered, installed and maintained they are, bearings that are in constant use will eventually reach a point where they require either repair or replacement. Although there are arguments in favour of each approach, in the current economic climate, where mills face a combination of intense global competition and rising input prices, there is a strong impetus, wherever possible, to repair rather than replace bearings.
Groissmayr manages one of SKF's Industrial Service Centres, specialising in the remanufacture of bearings for the pulp and paper sector. He notes, "one of the biggest challenges for production or maintenance engineers is minimising machine downtime. The problem with bearing replacement is that it's often impossible to determine how damaged a bearing has become until it's dismounted and removed from the machine, by which time of course the line has stopped.