Goscor Cleaning Equipment (GCE) of Johannesburg today launched its latest cleaning equipment technology into the Southern African market: the GM1ze from Green Machines International GmbH. "This compact sweeper not only saves time thanks to its powerful battery, but is also easy to operate, and enhances hygiene, safety, and environmental awareness," GCE general manager, Greg Venter comments.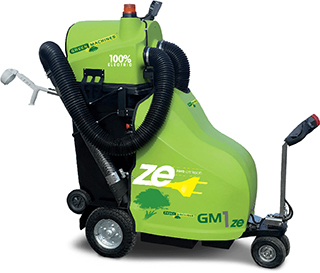 Our mission is to introduce zero emission into the African cleaning equipment market. We want them to see that less is more and zero is everything.
The latter is particularly important in an urban context, with towns and cities struggling with respirable dust and exhaust emission limits, all in an effort to reduce carbon dioxide emissions. "The GM1ze is the latest 'green' e-sweeper, representing the best of German engineering excellence," Venter highlights.
The special narrow design (780 mm wide, 1 480 mm long and 1 760 mm high) means that the GM1ze is ideal for use in confined spaces. Double soundproofing is standard, with an acoustic level approaching that of absolute silence.
It uses 24 V, 36 V or 48 V lead acid batteries, giving it an eight- to 16-hour operating window, depending on the application. The machine is powered by an 0.85 kW motor (electric axle with permanent magnet DC motor and integrated parking brake), and produces 1.5 kW of suction power (brushless DC). It has an 18 m2 dust filter, and a suction pressure of ≥25 mbar.