Originally developed back in 2012, Endress+Hauser's HeartbeatTM Technology simplifies instrument diagnostics, verification and condition monitoring, leads to better predictability and uptime and lowers costs. Peter Middleton talks to Endress+Hauser product managers Jan Gerritsen and Frans van den Berg.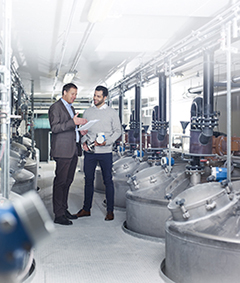 "Just as every person's health can be monitored by his or her heartbeat, Endress +Hauser's Hearbeat Technology strives to track the health of critical plant instruments, such as level and flowmeters," begins Van den Berg, Product Manager for Flow at Endress+Hauser South Africa.
"When we humans feel a headache coming on, we take two tablets. In the same way, when an instrument detects a problem, it is now able to communicate that information so that an intervention can be planned to quickly restore the instrument to full health. This is important for safety on our customers' plants, to ensure that flooding or spills are always avoided, for example," he continues.
The technology equips instruments with comprehensive diagnostics, verification and condition monitoring/predictive maintenance capabilities, "for maximum safety and the highest possible availability".
Heartbeat diagnostics is the first level of instrument health management. "Instruments in safety critical applications, such as flow- meters, must meet the highest requirements in terms of reliability. With HeartbeatTM Technology, our new Proline flowmeters offer unprecedented degrees of diagnostic cover- age, from the measuring tube to the outlet," Van den Berg tells MechChem Africa.
Embedded in each Heartbeat-enabled meter is an instrument-specific set of test procedures, which are performed continuously, with all the results being internally logged. "In the event of any failure, alerts can be sent and flags raised so that operators can react in the fastest possible time," he explains.
"Also, to get health insurance, a person might need to go to a doctor for a medical examination. The doctor will give him or her the certificate that the medical aid requires before contracts can be signed."
In the same way, any ISO 9001 company needs be able to produce evidence of the healthy condition of its equipment. "Companies typically have to get a third party to do an audit of their procedures and certificates are required to prove that all instruments and equipment are operating to specifications.