Shinya Hasegawa and colleagues at Tokai University have developed a refrigerator capable of generating temperatures down to -107 °C, powered off waste heat by a multistage travelling-wave, thermoacoustic engine.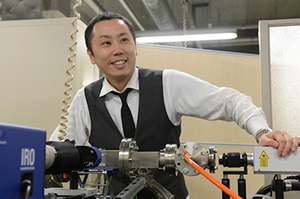 Tokai University's innovative thermoacoustic refrigerator, developed by associate professor Shinya Hasegawa and his colleagues, can produce gas oscillations and refrigeration using heat at a temperature lower than the boiling point of water and, at an input heat temperature level of 270 °C, it can achieve a refrigeration temperature of -107.4 °C. These findings are published in the journal of Applied Thermal Engineering, November 2016.
The principle of thermoacoustic (TA) engines is based on the heating, cooling and oscillation of acoustic (sound) waves created by the thermal expansion and contraction of gases such as helium enclosed purpose-designed tubes and cavities.
The potential of TA engines for generating clean and renewable energy started being demonstrated in seminal reports published in the late 1990s and early 2000s by researchers in the USA. These reports into the modern implementations of TA engines have led to increased worldwide research on the development of high efficiency TA engines to convert heat into useful power.
Two of the main hurdles preventing the proliferation of this technology are: high efficiency systems need to be able to operate at less than 300 °C as compared to the currently possible 400 to 600 °C range; and robustness of the designs to enable the systems can be used in a wide range of environments such as fishing boats and heavy industries.
Hasegawa and his colleagues have designed a high-efficiency multistage-type thermoacoustic (MS-TA) engine, without moving parts that operates at less than 300 °C, which is the temperature of more than 80% of available industrial waste heat. The design of the MS-TA engine was based on linear analysis conducted by Hasegawa and his group.
Background and aims
"TA engines do not have moving parts, are easy to maintain and, potentially operate at high efficiency at low cost," says Shinya Hasegawa, an associate professor at the Department of Prime Mover Engineering, Tokai University, Hiratsuka, Japan. "My goals in this research are to develop TA engines that operate at less than 300 °C with more that 30% efficiency and to also demonstrate a refrigerator operating at -200 °C driven by these lower waste heat temperatures."