VTT Technical Research Centre of Finland has developed an environmentally sound and economical method for producing furandicarboxylic acid (FDCA) from plant sugars for the production of plant-based plastic products.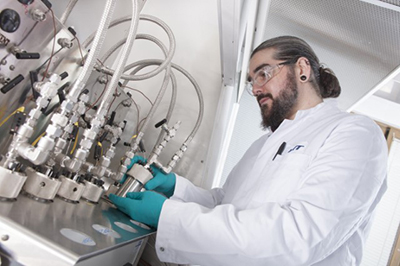 The main production material of drinking bottles is still oil-based PET, although there has been news on alternatives based on renew- able materials during the last few years. VTT's new method provides a route for the packaging and beverage industries to expand the use of renewable materials in their production.
VTT has patented a method for producing furan dicarboxylic acid (FDCA), the monomer for PEF (polyethylene furanoate) polymers, from sugar or sugar waste. Thanks to the solid acid catalyst and bio-based solvent with short reaction time, the method provides a considerable reduction of toxic waste compared to traditional methods. The method can be scaled-up to industrial purposes without substantial investments, and it has already raised a lot of interest in industry. The R&D work was funded by VTT and Tekes.
Green plastics from citrus fruit peels and sugar
The need for bio-plastics is growing. Brand owners are looking for sustainable solutions for packaging, fibres, paints, inks and plastics. This creates a need for high-performance bio-plastics such as polyamides (PA) and polyesters (PET).
The total global production of PET polymers was over 50 Mt and that of polyamides (PA) over 10 Mt in 2015. Furan dicarboxylic acid (FDCA)-based polyethylene furanoate (PEF) polymers offer a bio-based alternative to petroleum-based PET polymers. Polyamides are used in applications calling for high durability and strength. Muconic acid is a versatile monomer, which can be converted to multiple PA monomers such as adipic acid, terephthalic acid, hexamethylene diamine, caprolactam, caprolactone and 1,6-hexane-diol. PAs are used as engineering plastics, for example in automobiles.
New prospects for the use of pectin
VTT has developed a process to convert pectin biochemically to an aldaric acid, which in turn can be chemically converted to monomers for bio-based polyesters and polyamides. Pectin is a side stream obtained from citrus fruit peels or from sugar beet pulp.
Sugar beet pulp is currently used as animal feed, but the goal is to use the pulp for higher-value applications. Pectin is currently underutilised as the production is only about 40 000 t/a, with the potential of several tens of million tonnes available annually. Its current use is in the food and beverage industry as, for example, a gelling agent. In addition to pectin, wood- or plant-based glucose can be used in the production of aldaric acid.