MechChem Africa talks to Atlas Copco's Ian Ainsworth, the new business line manager for Compressor Technique Service (CTS) about positioning the service offering to better suit the needs of its compressor users.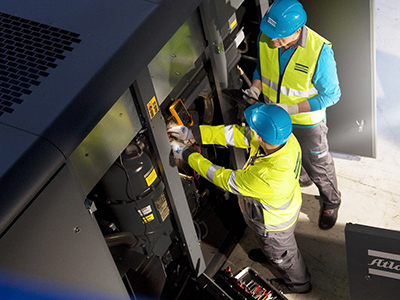 "From a service perspective, we at Atlas Copco want to be seen as on our customers' side, making their processes more efficient, more effective and more productive," begins the company's new service line manager, Ian Ainsworth. "Our global vision is to be 'first in mind, first in choice', and our internal interpretation of that is that our staff should have our customers first in mind so that they choose us as their preferred partner for compressed air," he adds.
"Corporates tend to become inward focused, relying on internal procedures and machine specifications in their dealings with customers, who can be left feeling let down because nobody is responding directly to their specific needs and concerns. We believe in forming partnerships with clients, personal relationships that involve mutual trust and a thorough understanding of each customers needs and priorities," he says.
"At CTS, we see our role as going beyond servicing, repairing or overhauling a machine. It's more about finding ways of supporting customers so that their business and ours can succeed and grow," Ainsworth tells MechChem Africa.
Describing a new initiative in the service planning department, he says: "We have always had an excellent planning team who are strong when it comes to administration, planning and using the CRM (customer relationship management) systems. But these administration specialists are not always technically trained and some have never visited a compressor on site. When a customer phones, it always helps when the person talking to them can see their environment and fully understand the issues involved," he points out.
"When standing in a compressor room at a Platinum mine 300 km away reporting a fault and asking for immediate assistant, background information such as whether power cables are connected and/or accessible; how high the ceiling is and whether lifting gear is available onsite might be very relevant. But from a planning/call-out perspective these questions seldom occur to a CRM-system specialist.
"What we have now done is add technically experienced people to the spares and service planning division.