APE Pumps' global holding company, WPIL, acquired the Italian pump company, Gruppo Aturia along with all of its brands during the second half of 2015. Richard Harper of APE Pumps introduces the resulting new offerings and highlights their niche application.
WPIL of India, the holding company of PSV South Africa and its pump manufacturing businesses, APE Pumps and Mather+Platt, purchased the global assets of Gruppo Aturia back in June 2015, bringing local access to five leading companies in the pumping field.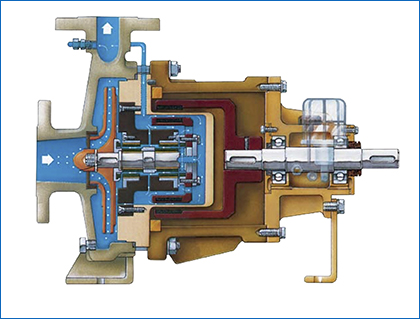 Aturia began to operate in the centrifugal pump sector in 1927 and soon became a leader in submersible electric pumps. The name is taken from the ancient fossils of the Aturia sea snail: "because water, essential for the development of any form of life, has always been its natural element and because its central spiral recalls the impeller of a pump. That's why we chose it as our trademark," notes Harper.
The Aturia submersible motor was patented in 1946 and in 1960 the company extended its reach to countries in the Mediterranean, America and Asia. "Over time, Aturia acquired four top Italian companies: Rotos and Marelli in 1990, Audoli & Bertola in 2003 and Aris Chiappa in 2009," Harper tells MechChem Africa.
Rotos was originally established in 1919 and manufactured electrical motors, monobloc pumps, multistage pumps and vertical spindle pumps. In 1962 it became part of the French Guinard group and established a centre for multistage pump development. Based on this experience, it started to produce pumps for the process industry (ISO 2858 and API 610) and in 2005 it began to produce Rotos magnetic drive pumps at its plant in Taglio di Po.
Now a global specialist in this technology, Gruppo Aturia's technically advanced Rotos hermetically sealed, magnetic drive pumps are now available in 18 different designs with over 250 basic models. "These are particularly suited to the chemical and petrochemical industries and the vast pump range allows our engineering department to meet exact process requirements," adds Harper.
Marelli, acquired together with Rotos in 1990, was founded in 1891 to manufacture electrical motors and centrifugal pumps. Its acquisition extended Gruppo Aturia's range of products by including monobloc, split case and large-capacity pumps.
Audoli & Bertola started producing vertical pumps in 1890 and over the years it strengthened its presence in the market in terms of applications for heavy industry – steel plant cooling systems, power plants and the marine sector. Gruppo Aturia acquired Audoli & Bertola in 2003, improving its presence in the industrial sector. Its office in Turin is currently a centre of excellence for fire-fighting systems (NFPA20, FM).
Link to Cover Story pdf