In its biggest sea vessel project ever undertaken, Hytec has successfully designed, manufactured, installed and commissioned all the hydraulics for three systems on board the SS Nujoma, the most technologically advanced marine diamond sampling and exploration vessel in the world.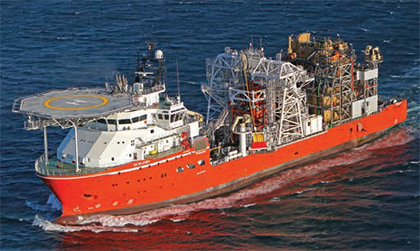 For its client, De Beers Marine, Hytec, part of the Hytec Group, was responsible for all hydraulic related aspects of the heave compensation system, the launch and recovery system (LARS) and a world-first advanced sub-sea sampling system called Seabed Tool (SBT) for the brand new Debmarine Namibia-owned sampling vessel, the mv SS Nujoma.
Contracted by De Beers Marine South Africa in Cape Town, Hytec Cape Town was brought into the project as far back as 2012 for the pre-feasibility and feasibility studies. These were completed during the first half of 2015 and Hytec received the hydraulic orders for the SBT in July 2015 and for the LARS in September the same year. Design, manufacture, assembly and successful testing of the SBT were completed in July 2016, while the manufacture and assembly of the LARS system modules, carried out in Johannesburg, was completed and delivered to De Beers Marine in Cape Town, in August 2016.