Protecting people while they work in dirty or hazardous environments has always been the focus of Ansell's business. Whether one is working with liquid or solid chemicals, asbestos, paint, oil, grease, viruses and blood borne pathogens, or one of the countless other workplace contaminants in evidence today, Ansell Microgard Limited can always be trusted to keep you better protected.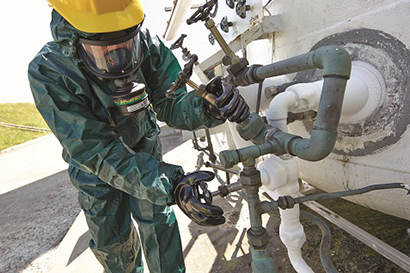 When choosing chemical protective clothing, consideration must be given to permeation and penetration, as well as physical attributes such as abrasion, tear, tensile strength, etc.
Ansell Microgard Limited is a leading manufacturer of chemical protective clothing that has been introducing new technology and designs to the market to improve wearer protection and comfort for 40 years. Established in 1975, the company has built its reputation on this, with the result that today, millions of Microgard® and Microchem® products are worn around the globe, protecting people throughout industry and the public sector.
The combination of Ansell's ISO 9001 accredited manufacturing facility and the expertise of its UK-based design, product development and technical departments, means that users can be assured that all Microgard and Microchem products achieve the standards they were designed to meet.
To assist customers with the selection of chemical protective clothing the EU has developed six categories for 'types' of chemical protective clothing. Certification to a type offers an indication of a suit's protection against a particular hazard: gas, liquid or dust. As manufacturers, it is Ansell's responsibility to ensure that Microgard and Microchem products meet the requirements of these standards, where applicable.
Ansell Microgard Limited has devised a simple flowchart as a basic tool to assist users and specifiers in selecting the correct 'type' of chemical protective clothing. It is important that the suitability of protective clothing for a specific use is determined by a trained expert in occupational health and safety. Many chemicals can cause serious and permanent injury to an unprotected or improperly protected user. Special emphasis, therefore, must be placed on the careful selection of chemical protective clothing when the potential for exposure to such chemicals has been identified.
Click here to download and read in PDF format.