AIM-listed Hummingbird Resources has announced the final results of a 14-month hydro-electric power (HEP) Pre-Feasibility Study (PFS) in the proximity of Hummingbird's 4,2 Moz Dugbe gold project in Liberia. The PFS, which was funded by IFC InfraVentures and carried out by Knight Piésold, confirms the potential viability of a range of options for HEP plants with the ability to supply a sustainable source of power for Dugbe, as well as the south-east Liberian region.
The PFS details five alternative solutions from 10-30 MW of hydro-electric power with the estimated capex ranging from US$51,5 to US$143,5 million depending on the size of the option selected.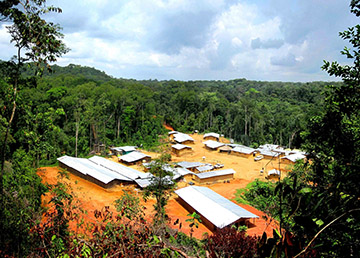 Hummingbird's camp at the Dugbe project. The proposed hydro-electric project is located 10 km from the project site (photo: Hummingbird).
Comments Dan Betts, CEO of Hummingbird Resources: "As the largest gold deposit in Liberia, with a US$186 million NPV at a US$1 300 gold price, we are obviously keen to move the project forward towards development and the delivery of the hydro power PFS is a tangible deliverable in this process. The PFS, which has been fully funded by IFC InfraVentures, has assessed the various options for a hydro-electric power plant 10 km from our Dugbe gold project, which could provide significant savings to our overall power cost for Dugbe, but also has the potential to provide surplus power to the local region.
"Power costs make up over a third of our total process opex at Dugbe and finding savings in this area will have positive implications for the project's economics. We had been using an estimate of US$0,28c/kW for rented diesel power in the PFS. Taking the total capex and opex for the HEP plant, over the current 20-year mine life, gives you a theoretical cost of US$0,05c/kWh. This number does not compare directly, since it does not include the impact of the financing cost of building the hydro plant as it is not yet known how this will be done or by whom. However, assuming a suitable financing solution was found, this could have a materially positive impact on the economics of the Dugbe gold project. Therefore, we are now considering our next steps with our partners on the PFS."
The Dugbe project is located within the Birimian Basin, the world's second largest gold producing region, characterised by exceptionally large, homogenous grade deposits. Hummingbird completed a Preliminary Economic Assessment (PEA) of Dugbe in April 2013 which demonstrated the viable economics of developing a 20-year gold mining project with an initial annual gold production of 125 000 ounces. Hummingbird signed a Mineral Development Agreement with the Government of Liberia in July 2015, giving the company security of tenure and right to mine for at least the next 25 years.