TSX- and JSE-listed Rockwell Diamonds Inc, which mines alluvial diamonds on the Middle Orange River (MOR), says in its quarterly production and sales update for the three months ended August 31, 2016 that volumes during the quarter were down 4 % on Q1 2017 and 8 % on Q2 2016, due to the planned scaling down of operations at Saxendrift, which was partly compensated by a 10 % increase in volumes processed at Remhoogte (RHC).
Rockwell is currently undergoing a change of management, with CEO James Campbell having tendered his resignation. He will be leaving at the end of November (although he will remain a director of the company). He is succeeded by newly appointed Executive Officer Tjaart Willemse, who has assumed chief executive authority for day-to-day operations and who is charged with turning around the company.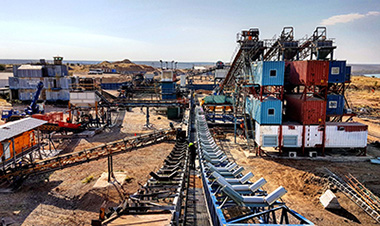 The Wouterspan plant under construction earlier this year. Although it has started commissioning, the project is over budget and behind schedule (photo: Rockwell).
The quarterly update notes that MOR grades were down 7 % on Q1 2017 and 8 % on Q2 2016, owing to diminished recoveries from the middlings material at Saxendrift (which was down 13 %) and reduced grades at RHC (down 14 %). Sales totaled 4 849 carats, stable on Q1 2017 and down 9 % on Q2 2016, while the value of sales decreased 17 % from Q1 2017 and 21 % from Q2 2016, to US$7,6 million (excluding beneficiation).
Rockwell reports that a five-year mining agreement has been concluded with C-Rock Mining (Proprietary) Limited (CML) for the provision of contract mining services at Rockwell's Wouterspan mine with a similar agreement to follow for RHC. This is structured to mitigate the volume and availability risks associated with the company's earthmoving fleet and its uneven operating performance to date.
Rockwell says that it expects commissioning of the third and fourth line of the Wouterspan (WPC) wet plant during October 2016. The first two lines are completing commissioning this month (September). It adds that it is reviewing the current mining plan at Remhoogte to reflect a reduced Rooikoppie resource and less economic Palaeo gravels and that operations at Saxendrift have been suspended as anticipated following recent economic performance.
Saxendrift has been the mainstay of Rockwell's production since its acquisition from Trans Hex. Commercial options on how to deal with this asset consisting of plant and remaining resource are currently being evaluated, royalty miners and relocation of fixed infrastructure being some of these.
Commenting on second quarter production and sales and the business in general, Willemse said: "From my observations to date on the general health of the business and understanding of the main contributors to its current position, it is clear that the business finds itself in a state of despair for a number of reasons.
"There has been a general breakdown in controls over a considerable period of time, non-adherence to the procurement policy, amongst others, being very prevalent. This, coupled with inadequate work planning and the lack of project front-end loading, has led to a series of financial management concerns and business risks. Blurred lines of accountability, both within the organisation and between the company and some of its service providers, does not bode well for proper management and control of the business and a perceived lack of a sense of urgency further exacerbates the potential for failure.
"Following some changes to the team and with the full co-operation of the remaining management and the outgoing CEO, the board led intervention with myself as the new leader will continue. I am pleased to report some significant progress has already been made and I hope to be able to update stakeholders in more detail when we release the quarterly results next month.
"In conclusion, I am of the opinion that, with appropriate controls in place and with the right team to execute it, Rockwell can be turned around to deliver good shareholder value".