Roxgold Inc, listed on the TSX Venture Exchange, reports that commercial production at the Yaramoko gold mine in Burkina Faso has been achieved, effective October 1, 2016.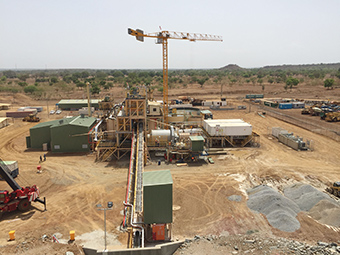 The processing facility at the new Yaramoko gold mine in Burkina Faso (photo: Roxgold).
"We are pleased to have reached yet another significant milestone at Yaramoko and look forward to continuing our track record of meeting expectations and to a bright future. Total gold production at Yaramoko reached 47 469 ounces at an average mill feed grade of 15,6 grams per tonne as of September 30, 2016," commented John Dorward, Roxgold's President and CEO. "Bringing Yaramoko into production ahead of schedule and under budget is an achievement we can all be proud of, and I want to thank Roxgold's employees and contractors for their continuing hard work and dedication."
From July 1, 2016 to September 30, 2016, Yaramoko produced 32 987 ounces of gold. During the same period, 34 594 ounces were sold at an average realised price of US$1 334 per ounce.
The second stope (MD_5219-53) was extracted successfully in September 2016. This double height stope remained stable and dilution, at 17,9 %, was below the Feasibility Study assumption of 20,5 %. The first stope (MD_5219-38) has been filled with cemented rock fill in preparation for the extraction of the adjoining stope. Roxgold says it is encouraged by the efficiency with which stoping operations have been established at Yaramoko.
Following the declaration of commercial production, the company's operations team will continue to focus on optimising mine productivity to potentially take advantage of upside in mill throughput.