Aveng Grinaker-LTA's Civil Engineering business unit, as the main contractor in a 50/50 joint venture with Aveng Grinaker-LTA Building, has completed the R533 million Shondoni mine surface infrastructure and building project for its client, Sasol Mining, who took occupation of the mine site in June 2016.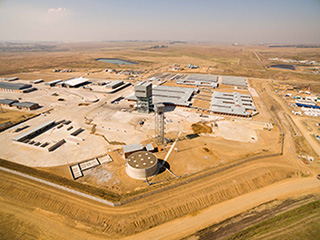 Recent view of the Shondoni mine site.
Liam Pieterse, Project Manager for Aveng Grinaker-LTA Civil Engineering, said: "The team was able to meet the stringent project requirements and we received positive feedback from the client who were pleased with the project delivery."
The Shondoni mine is the third coal replacement project for Sasol Mining's operations in Secunda. It has the capacity to produce 9,2 Mt/a of baseline feed stock for Sasol Synfuels' coal-to-liquids operations. The Shondoni mine complex comprises shaft systems, surface infrastructure and a coal-handling system.
The scope of work for the Shondoni mine project included both civil and building works. Quantities involved included 200 000 m3 of earthworks, 32 000 m3 of concrete, 1 000 tonnes of reinforcing, 170 000 m2 of mesh reinforcing, 900 tonnes of structural steel, 3 million bricks and 18 km of HDPE piping. Further works comprised construction of the change houses, production and management offices, a diesel workshop, two reservoirs and dirty water and attenuation dams.
Over the duration of the contract, the Aveng Grinaker-LTA Civil Engineering and Building teams achieved safety milestones of 800 000 and 1 200 000 Lost Time Injury (LTI) free hours with approximately 700 people on site at peak.
The project provided employment and skills development opportunities for approximately 230 local community members residing close to the mine. The local labourers, together with sub-contractors and Aveng Grinaker-LTA employees, were trained through the established on-site training centre with regular workshops on all safety and technical competencies required for the mining project.