Reporting on the quarter ending 31 December 2016, ASX-listed Resolute Mining says that the Syama underground mine is on track to deliver first development ore over the coming quarters and first production ore during the second half of 2018.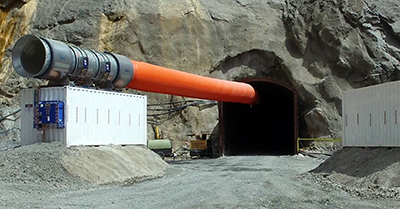 Syama Underground 1200 portal established (photo: Resolute).
Syama is located in the south of Mali, approximately 30 km from the Côte d'Ivoire border and 300 km south-east of the capital Bamako. The Syama operation comprises two separate processing plants: a 2,1 Mt/a sulphide processing circuit and a 1,3 Mt/a oxide processing circuit.
Mining at the main Syama open pit was completed in May 2015 with ore for the sulphide circuit being sourced from stockpiled material. Ore for the oxide circuit is provided by mining satellite orebodies. A Definitive Feasibility Study announced last year outlined a plan for the new underground operation to extend the mine life at Syama beyond 2028.
Excavation of the decline continued during the quarter with the 1200 portal completed along with the 1200 Fresh Air level (1200FAD). Excavation advanced on both the decline to the 1130 level and the incline to the main boxcut entrance at the south-eastern edge of the Syama pit.
Resolute says it is committed to investigating and adopting appropriate leading edge technology solutions and innovations to increase efficiency and productivity. Discussions continued with a number of equipment manufacturers over the quarter to ensure the proposed mine design at Syama captures the safety and productivity benefits that new technologies can provide. With drilling results indicating significant extensions to the depth and mine life of the Syama underground mine, a preliminary study into the viability of using underground crushing and conveying instead of truck haulage was completed and is being evaluated.