US-based Cupric Canyon Capital (Cupric) has announced that its wholly owned subsidiary, Khoemacau Copper Mining Pty Limited (KCM), has entered into a US$50 million, term loan facility agreement with Red Kite Mine Finance to provide funding for KCM's Khoemacau copper-silver project in Botswana.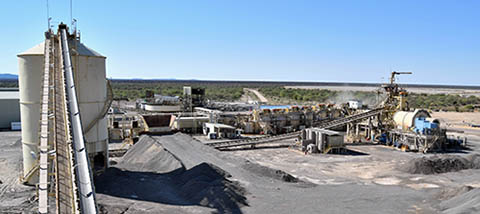 The Boseto concentrator is to be upgraded from its current 3,0 Mt/a nameplate capacity to 3,6 Mt/a (photo: Arthur Tassell).
KCM will construct an underground mine at its high-grade Zone 5 deposit. The Zone 5 resource contains 100 Mt of ore grading 2 % copper and 20 g/t silver. The Zone 5 underground mine will be accessed with three declines and will utilise a highly-mechanised, low-cost, sub-level open stoping mining method.
The mine will initially feed the nearby Boseto copper concentrator, which was acquired as part of Cupric's purchase of Discovery Copper Botswana (DCB) announced in July 2015. The Boseto concentrator will be upgraded from its current 3,0 Mt/a nameplate capacity to 3,6 Mt/a.
Metal production from the Starter Project will average 50 000 tonnes of copper and 1,4 million ounces of silver per annum. The Zone 5 mine is expected to have a minimum life of 25 years and average C1 cash costs of around US$1,00 per pound.
The total cost to develop KCM's Starter Project is approximately US$350 million, with underground mine development being the largest single cost component. Efforts are underway to optimise both ore grade and capital expenditures. Within the next few months, the Botswana Environmental Ministry is expected to approve modifications to KCM's environmental permits to facilitate processing Zone 5 ore at the upgraded Boseto plant.
The Botswana Power Company is also progressing development of the high-tension power line that will provide commercial power to the north-west region of Botswana. This power-line project includes a spur line to Boseto and Zone 5, providing low-cost commercial power when KCM starts production in 2019.
Dennis Bartlett, Cupric's Chief Executive Officer, said: "Proceeds from the term loan will enable us to continue development work at Khoemacau as we prepare to begin full scale construction of the Starter Project in the second half of 2017. All design, engineering and permitting work is progressing well and on schedule, bolstering our confidence that production will commence in 2019.
"In addition, the most recent drilling results including the discovery of Zone 5 North and mineral resource updates for the deposits acquired last year are very exciting. We continue to believe that Zone 5, combined with the expansion potential offered by the other deposits within our licence areas, represents perhaps the most attractive new copper project in the world today, with the potential to ultimately achieve copper production in excess of 120 000 tonnes per annum."