Tharisa, a profitable low cost producer of PGMs and chrome, owns a large scale open-pit operation – the Tharisa mine – with an open pit life of 18 years and a further 40 years of underground mine extension.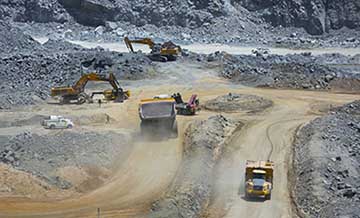 Open-pit operations at the Tharisa mine (photo: Tharisa).
With the long life of the open pit, Tharisa has been evaluating the benefits of transitioning from contract mining to an owner mining model at the mine, which is located on the south-western limb of the Bushveld Complex, approximately 95 km north-west of Johannesburg and 35 km east of Rustenburg.
Tharisa currently contracts its mining operations to MCC Contracts (MCC). MCC's parent company Extract has announced a strategic decision to align its capital allocations with the current mining environment and to review its business model. As a result, Tharisa has the opportunity to purchase MCC's existing on-site plant and equipment, as well as employ skilled employees currently in service at the Tharisa mine.
Tharisa says it has accordingly engaged with MCC in an orderly manner to purchase a requisite portion of the existing mining fleet as a going concern. Tharisa, in the normal course of managing its mining operations, has developed engineering and geological skills that are integral to in-house mining, and the successful conclusion of this process will ensure that the mine transitions to an owner mining model without interruption.
The company believes that with the long life of the open pit, the transition to an owner mining model is a logical progression in its development. The change in the operating model is expected to have both cost and operational benefits as well as providing financial flexibility, thereby cementing Tharisa's low-cost high margin position.
"Tharisa has spent the last two years building up its mining expertise and we are now happy that we have the necessary skills to make a smooth transition. We are excited to have the opportunity to directly control our own mining," said Tharisa CEO Phoevos Pouroulis.