Caterpillar has announced that B2Gold Corp, reportedly one of the fastest-growing gold producers in the world, has selected the company and Cat® dealer Barloworld to supply 7 MW of solar power at the Otjikoto mine in Namibia.
The full system, including Cat photovoltaic (PV) solar modules and the Cat microgrid master controller (MMC), will be used to reduce reliance on a heavy fuel oil (HFO) power plant currently used to power the mining facility. Barloworld is supplying engineering, procurement and construction services for the project. Installation of the system is underway, with the completion of the project expected in early 2018.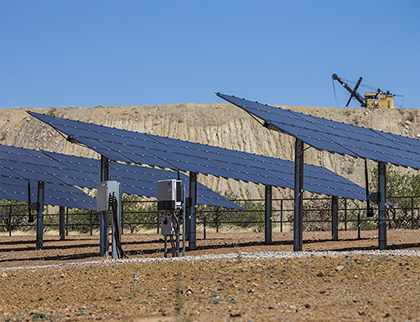 Solar array in microgrid at Caterpillar's Tucson proving grounds in the US.
"At B2Gold, we embrace environmental stewardship and social responsibility as key corporate priorities in doing business," said Mark Dawe, Managing Director and Country Manager for B2Gold Namibia. "As one of the largest solar installations in Namibia, the facility at the Otjikoto mine will help us to leverage a plentiful, renewable resource while improving the quality of life for nearby communities."
Caterpillar's solar PV system is powered by advanced thin-film solar modules that are reported to be setting the industry benchmark with improved performance over conventional silicon solar panels. Fully scalable and pre-engineered for quick and easy installation, the system is said to offer reliable and predictable energy in all climates and applications with modules that are independently tested to pass accelerated life and stress tests beyond industry standards.
Caterpillar's solar PV offering is a key component of the Cat Microgrid technology suite, an innovative line-up of power systems that adds environmentally friendly solar panels, state-of-the-art energy storage, and advanced monitoring and control systems to Caterpillar's traditional line of power generation equipment.
The Cat Microgrid technology suite is designed to reduce fuel expenses, lower utility bills, decrease emissions, and reduce the total cost of ownership while increasing energy efficiency in even the most challenging environments.
A key differentiator in Caterpillar's offering is the Cat MMC, which keeps loads continuously energised with high-quality power at the lowest cost. It manages the flow of power from every source in the system, including the main grid when connected. The Cat MMC determines optimum recharge times for the energy storage systems while managing power during times when solar energy is not available.
Otjikoto is located in the Otjozondjupa region approximately 300 km north of Windhoek. The mine reported a record year in 2016, producing 166 285 ounces of gold. Caterpillar supplied the original 25 MW of power capacity to the mine when it opened in 2014 through four Cat 12CM32 HFO medium-speed engines and three Cat 3516B high-speed generator sets.