Germiston-based Weba Chute Systems says that its scientific approach to the design and engineering of transfer chutes has made it a leader in its field, saving customers millions in plant efficiencies, longer equipment life and easier maintenance.
Weba Chute Systems Managing Director Mark Baller points out that the company invests thousands of research hours into understanding the dynamics of bulk materials handling at transfer points. "Employing sophisticated 3D computer software for our system designs, we follow this up with quality manufacture in our ISO 9001:2015 accredited facility. However, this capacity is only as valuable as the data that we get from our customers – so a close working relationship is a vital cornerstone for a successful outcome."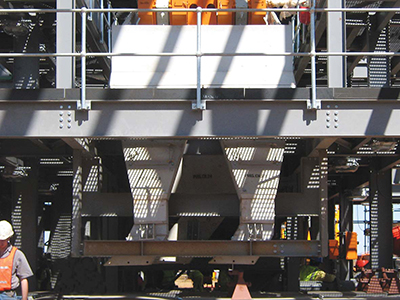 The Weba Chute Systems teams have extensive in-field experience and are able to provide fit-for-application transfer solutions.
Baller therefore emphasises that each project begins with a hands-on approach adopted by the engineering team, who together are able to leverage many years of field experience. During a site visit at the start of the process, the team identifies transfer issues and collaborates closely with the customer to develop a tailor-made solution.
"Cost factors are front-of-mind for all stakeholders in the mining sector, so we have to ensure a solution that will increase the return on investment within as short a period as possible," he says.
It is also insufficient to view the design of transfer chutes in isolation from the broader working environment. Taking a systems approach to bulk solids handling design is essential to ensure operational characteristics are matched throughout the plant. This is a prerequisite to ensuring smooth materials flow through the entire plant.
"Optimising chute performance is a process of defining the geometry of the chute to reliably convey material from one point to another," he says. "The complexity of chute performance means that chute design should be carried out at the plant design stage, and not added as a conveyance to transfer material from one point to another at a later stage."
To ensure customer confidence and assurance that the product will meet its stated objectives, Weba Chute Systems provides process and performance guarantees, backed up by its substantial support network. These guarantees, set in accordance with operational and application parameters, are underpinned by quality manufacture, says Baller – a non-negotiable element of all products emanating from the company's manufacturing facility.
"The results of our research, engineering and quality focus are reduced maintenance requirements in the final product as well as improved transfer conditions, longer conveyor belt life and higher throughput," he says.
He adds that this philosophy drives the company to constantly improve its products – and to find ever more effective ways of helping clients manage their production costs. The implementation of well-engineered transfer chute systems becomes a key strategy in achieving clients' budgetary goals.