Stellar Diamonds plc, the London quoted diamond exploration and development company focused on West Africa, has announced the completion of the Tribute Mining Agreement and Revenue Share Agreement with Octea Mining Limited in respect of the Tongo-Tonguma diamond project in Sierra Leone.
Pursuant to an agreement dated 27 February 2018, both Stellar and Octea have agreed that outstanding title opinions over the Tongo and Tonguma licences will be provided following payment of licence fees for the existing Tonguma mining licence held by Tonguma Limited which Stellar is expected to fund shortly. The Tongo mining licence has been approved by the Minerals Advisory Board and the licence fee is expected to be paid when the company has secured the project funding.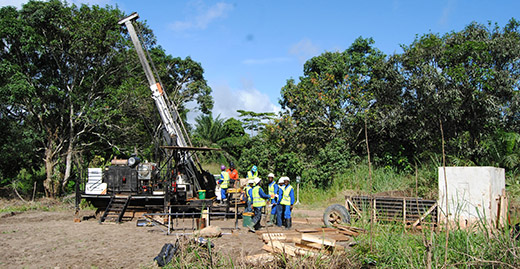 Drilling at Tongo Dyke-1, part of the Tongo-Tonguma project (photo: Stellar).
In this regard, Stellar is continuing its discussions with ASX-listed Newfield Resources. Stellar announced on 1 February that it was in advanced negotiations regarding a possible share offer for the entire issued and to be issued share capital of the company by Newfield, which has a number of diamond exploration licences in Sierra Leone.
Comments Stellar's Chief Executive, Karl Smithson: "The closure of the agreements with Octea mark a major milestone for Stellar as it secures the Tongo-Tonguma project for the planned long-term development programme. We have already commenced the front end engineering design (FEED) programme and have signed a contract for 9 000 metres of mine development drilling that will enhance the geological control for the first two levels of mining.
"Discussions are ongoing with Newfield Resources regarding the indicative offer which, if successfully concluded, and supported by our respective shareholders, will result in sufficient funding being made available to bring the Tongo-Tonguma project into production according to the refined mine plan that will be generated by the FEED programme. We look forward to updating shareholders in the near future."
The Tongo-Tonguma kimberlite project is located in the world-famous diamond fields of eastern Sierra Leone. An independently generated mine plan, based on over 66 000 m of drilling that has been completed to date, envisages the production – from an underground mining operation – of over 4 million carats, generating gross revenues of more than US$1,2 billion over a 21-year life of mine. Initial production at Tongo-Tonguma is scheduled to occur in the first year of development, building up to over 200 000 carats per annum, with a weighted average modelled diamond value of US$229 per carat.