Presenting the Aspasa ISHE 2015 awards at this year's Institute of Quarrying/Aspasa conference in April, Aspasa's well respected auditor Marius van Deventer thanked members for their commitment to the audit process. "Thank you for your dedication and hard work and for your commitment to health and safety. I think you will all agree that 2015 has been a very tough year with all the new legislation and buzz words going around. Everybody is running around trying to implement these requirements and yet still made the time to complete our audits.
"The national 2015 safety statistics for all mining divisions was published in January this year, and it was good to see an overall improvement on recorded fatalities of 8,0%," he says. "We mourn the 77 people who lost their lives in the mining industry but are thankful that Aspasa was not a contributor to these figures. It is, however, worrying to see an increase of 15% on recorded LTI or disabling injuries for 2015, and in most cases this was a contributing factor to our stats as well. This is definitely a focus area for the future.
"The first quarter of 2016 has not been a good start for mining in general. We have already seen 17 fatalities for the first quarter with over 500 disabling or LTIs recorded for this period; we need a lot of attention in these areas," he reiterates.
"As you know, the main focus of our audit is operational control – the condition of the mine, the plant, workshops, etc. This isn't an easy audit because we also look at industry requirements, your own policies, your procedures and obviously legal compliance. I wish we could honour everybody, but there is only a handful that stood out and we need to give credit for their hard work and commitment," Van Deventer says.
He says that Aspasa members in the aggregate and sand industry have the best health and safety statistics of any mining operation in SA, "something that cannot be achieved with the hard work and dedication by everybody involved."
The awards were handed out by Aspasa chairman Gert Coffee, together with Aspasa's mancom and key representatives from the Global Aggregates Information Network (GAIN).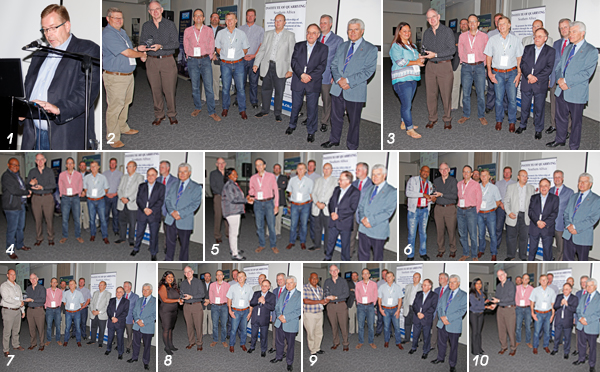 Aspasa ISHE auditor Marius van Deventer.
Consistency in achieving Showplace and theTop Performer for 2015: AfriSam Newcastle.
Anthea Sheldon from SPH Kundalila was one of four safety practitioners honoured for their support and ground work in their areas of responsibility.
For 2014 Umhlali Quarry received an award for the Best Improved Operation, going further in 2015 to be the Best Independent Operation with a score of 91,71%.
Consistency in achieving Showplace: This award is where operations achieve audit scores of 95% and higher for at least five years consecutively. AfriSam Ladysmith was one of the four winners.
Consistency in achieving Showplace: AfriSam Verulam,
Most Improved Operations: Infrasors Marble Hall.
Annashree Maharaj from PPC was one of the safety practitioners honoured for her hard work and commitment.
AfriSam Newcastle's Salva Govinden was recognised for the exceptional work he is doing in developing and maintaining his quarry pit. He started working as a young man at this quarry, originally employed as a stores clerk. Through many years of hard work (41 years' service), he has progressed to the position of quarry foreman and blaster, also carrying many legal appointments at this operation.
Umhlali Quarry's Denishree Pillay is one of the four safety practitioners recognised for her commitment and hard work towards safety.
Top performer
AfriSam Newcastle
Top Independent performer
Umhlali Quarry

Consistency in achieving Showplace

for 5 years running

AfriSam Newcastle

AfriSam Ladysmith

AfriSam Verulam

AfriSam Umlaas Road

Best improved operations

Lafarge Tongaat

Afrimat Harmony

Lafarge Qala Quarry

Infrasors Marble Hall

Safety manager awards for

outstanding commitment

Danny de Villiers, SPH Kundalila

Chris Pillay, AfriSam

Hendrik Moorhead, WG Wearne

Mogamat Bailey, Afrimat

Safety practitioner awards for

excellent performance

Elton Goosen, Lafarge

Dineshree Pillay, Umhlali Quarry

Anashre Maharaj, PPC Mooiplaas

Anthea Sheldon, SPH Kundalila

Special award for outstanding

quarry development

Salva Govinden, AfriSam Newcastle
Report by Dale Kelly and photographs courtesy Aspasa