Electra Mining Africa (EMA) has always been a key event for Joest Kwatani, providing this South African original equipment manufacturer (OEM) the opportunity to showcase its leading role as a vibrating equipment solutions provider to the African mining industry.
"EMA allows us to meet a large number of existing and new customers, as well as forge more alliances with industry participants in just a few days," says Kim Schoepflin, MD of Joest Kwatani.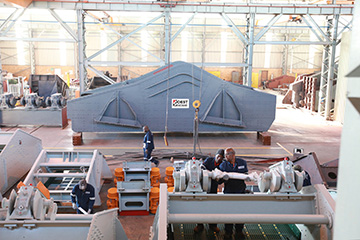 Joest Kwatani screens in the manufacturing facility.
Importantly, Schoepflin says, Joest Kwatani has always valued the interaction with international visitors to the event, facilitating important discussions on greenfields and brownfields projects on the continent, as well as new and important trends in minerals beneficiation.
The outcome of this interaction is the introduction of the latest technologies from Joest Kwatani to improve performance and reduce costs; both critical requirements in the current challenging market conditions.
The ability to respond quickly to market demands has always been one of Joest Kwatani's strengths. Schoepflin says the OEM has built a reputation for being able to supply robust vibrating equipment that is tailored to withstand arduous African mining conditions.
In designing and developing these solutions, the OEM uses advanced systems that are supported by qualified mechanical and metallurgical engineers, and these technologies are backed in the field by service centres in key mining regions.
Importantly, this year's EMA will provide Joest Kwatani the opportunity to exhibit the Derrick range of engineered fine screening solutions. The company was recently appointed the exclusive representative for these technologies in select coal and iron ore mining regions in South Africa, and across the country's borders.
Schoepflin says the company's sales and support functions will be undertaken in partnership with Derrick Solutions International Africa which, like Joest Kwatani, has dedicated as much as 40% of its engineering skills to R&D.
The outcome of the gravitas Joest Kwantani places on R&D can again be witnessed at this year's event. The company's stand will include a heavy media cyclone separation pilot plant featuring vibrating screens and feeders. The plant will simulate the recovery of sinks and floats on its single deck screen. These will be complemented by the OEM's comprehensive portfolio of drives, as well as discussions on Joest Kwatani's new full load exciter gearbox test bay. Bear in mind the company is the only OEM to test run its exciter gearboxes in-house with full weights under plant operating conditions.
Also on display will be a new vibrating screen and feeder isolater from Joest Kwatani following its exclusive supply agreement with Swiss OEM, Resatech. The Joest Kwatani Resatech isolator compares favourably to the traditional coil spring, but dampens larger movements which are typically prevalent during the start-up and stopping of vibrating screens.
Moreover, the Resatech range of isolators eliminates sideways movement which is a major benefit when vibrating screens are installed on marine vessels and older plant structures.
EMA also coincides with this Level 3 Broad-Based Black Economic Empowerment company's 40th year of designing and manufacturing screening solutions for the mining industry.
Clearly, Joest Kwatani's stand promises to be one of the many highlights at this year's EMA, drawing the crowds to this very important mining gathering in Johannesburg, Gauteng.