In challenging economic times, the fate of a business may hinge on the skills of its equipment operators to extract, load and haul quarried materials to the processing plant in the fastest and most efficient manner. It is true that even the most efficient processing plant cannot operate effectively unless it is being fed at its optimum rate. It is therefore imperative that operators work accurately according to prescribed plans, making the best use of the equipment that they operate.
Nico Pienaar of the Aggregate and Sand Producers Association of Southern Africa (Aspasa) says experience from the industry has taught that well-trained, motivated and diligent operators play a major part in the profitability of quarries and processing plants. Not only are they able to work more quickly and efficiently, but they can also negate the need for additional equipment that might otherwise be brought in to boost production.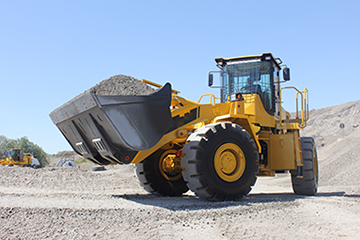 Operators of heavy equipment play a large role in the profitability of quarries.
"This has the effect of saving on the capital expenditure of extra machines, operators, diesel and associated costs. It has been shown over and over again that three good operators can produce the same tonnage as four less-well-trained operators in many instances. It is therefore imperative that quarry operators take the time to train staff and work with equipment suppliers and training companies to get the most out of their machine operators. In most instances the equipment suppliers will provide basic training to operators upon the acquisition of equipment, but thereafter it is imperative to keep training operators and then refining their skills.
"Also, to work with them to be able to achieve productivity and profitability goals within their ability to achieve. For example, working according to plans, optimising load-haul-dump cycles, obtaining maximum fuel efficiency, daily and routine maintenance regimes, etc," Pienaar adds.
With an eye on the bottom line, he advises that trained operators will offer immediate benefits and suggests quarry managers heed the call to continuously train and improve the skills of operators. In the USA it was found that fuel consumption in quarries can easily represent a quarter of a wheel loader (or excavator, dozer, etc) total cost. Idle time also plays a role and if machines are left idling between loads the overall idle time can add up to hundreds of hours throughout the year.
By working more efficiently a fleet of good operators can reduce idle time by hundreds of hours per machine and this means that machines require longer intervals between servicing, burn less fuel and result in les downtime. Additionally, good operators can save fuel by operating at lower revs, using less loading force to fill buckets and optimising loading circuits (routes).
Accident damage and unnecessary wear and tear can be reduced and apart from running less hours, good operators will maintain and look after their machines better than average Joe's would, and as a result well-looked after machines will command much higher trade-in prices when fleets are renewed.
"When buying machines, it is interesting to note that fleet owners will take hours of excruciatingly difficult decisions and buy a model of machine based on a 5,0% fuel saving that the machine may have over its competitors. Yet it has been proven in studies that the difference between an ordinary operator and a trained professional can vary by as much as 200%. Likewise, it was shown that a professional may attain a 700% higher productivity rate.
"It just goes to show that investments in training are equally if not more important as buying the right machine for the job. It is vitally important to train operators and keep them motivated by remunerating them according to their skill levels and providing them with a safe and fulfilling work environment," Pienaar maintains.