This year will see Consulting Engineers South Africa (CESA) take the lead in transforming its membership and industry. This is a critical theme in the light of the many obstacles the country is facing more than 20 years after democracy, despite significant strides made by government to transform society, CESA president, Lynne Pretorius, told members of the media at a function, in Rosebank.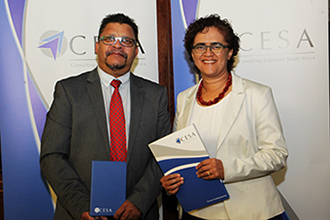 CESA's CEO Chris Campbell and president, Lynne Pretorius.
"Consulting engineering is experiencing similar challenges. Broad-based black economic empowerment (BBBEE) policies also gave rise to 'fronting', and questions are being raised about the effectiveness of the BBBEE scorecard in realising transformation," she cautioned.
The presidential theme for the year is being driven by CESA's Transformation Committee, which comprises members from both established and emerging firms. The committee will promote transformation as an ethical business practice and monitor progress made by its members beyond the requirements of the Construction Sector Scorecard.
In addition, it will help members understand that transformation is an ongoing process; facilitate sustainable BBBEE practices within the industry; and promote the practice through member's professional and business activities, among others. Pretorius noted that this intervention is essential considering that black ownership is still low at all levels of the industry.
"An overall assessment of employment by race indicates that the percentage of black employment has varied between 40% and 50% since 2007. There has also been no notable increase in black staff within CESA membership over the past four years," she said.
Of the 533 firms on CESA's current database, only 122 firms are black-owned, with this ownership less than 51% at present.
The association has identified a host of potential support programmes for small, medium and micro enterprises, which constitute about 95% of CESA's existing membership. Of this grouping, only 24% are black-owned with black ownership greater than 51%.
"CESA is also offering to partner with government departments to second young engineering staff in the public sector to member firms where they will gain critical experience. It will also develop awareness programmes to combat the barrier faced by women in the industry in order to attain a win-win situation for both employers and employees in our sector," Pretorius said.
"Importantly, the thorough detailing of BBBEE in annual declarations of members firms submitted to CESA will definitely bolster this transformation agenda, as we will for the first time to be able to measure and monitor transformation in our industry at a detailed level over overtime as opposed to being reliant on BBBEE scorecards, which are not always a true reflection of the demographic profile of our industry."