And so the 48th Annual conference and Exhibition of Institute of Quarrying Southern Africa (IQSA), incorporating the Aggregate and Sand Producers Association of South Africa (ASPASA) is over for another year.
Themed Can technology Save the World? – it was held for the first time at the Coastlands Hotel in Umhlanga, KwaZulu-Natal. The conference was well attended by some 260 delegates with almost 30 exhibitors offering a great deal of expertise on their stands. Several new products and technologies were launched by the exhibitors.
From left to right: Incoming chairman Simon Tose; Outgoing chairman Deon Bosman presents his 2016/2017 chairman's report; PPC's Thabile Ntibane received the Best Student Paper award for her presentation at the mid-year conference last year on Geological Optimisation; AEL student paper presenter Jaqueline Raputsoe; The Lucky Draw Raffle is always a great finish to the conference. All proceeds go to the Institute's charity for the year which is Elios; and Keynote speaker Theo Venter.
Sponsors always play a vital role in supporting the Institute and this year the conference was sponsored by African Drill and Blast; AfriSam; Atlas Copco; Blasting and Excavating; Blurock Quarry; Brauteseth Blasting; Caldas Engineering; Laduma Blasting; Lafarge; Malleo Equipment; Midmar Crushers; PPC; and Weir Minerals Africa. The jackets were sponsored by Raubex with the Thursday Hawaiian craft beer evening function for delegates, spouses and exhibitors hosted by African Explosives.
As always, the true benefit of the conference is networking and many of the suppliers were pleased that decision makers were there from various operations throughout the country. It is always great to see the camaraderie between the different operations.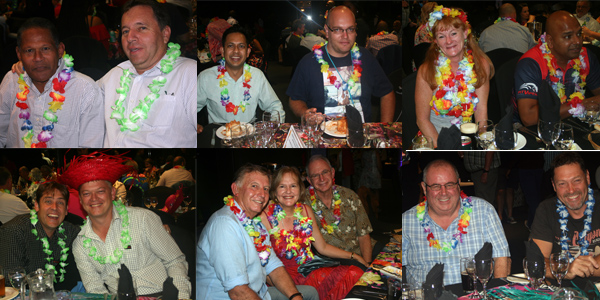 Photographs taken at the Thursday Hawaiian craft beer evening function for delegates, spouses and exhibitors, hosted by African Explosives
Looking back, I have attended this conference for 28 years in a row – how time flies – and it is always good to greet old friends and meet new ones. Of course, I haven't aged at all but my goodness how everyone else has! Chatting to some 'oldies', we reminisced about the formal cocktail party which was hosted by Osborn for many, many years; and the monkey-suit dinner which gave a lot of us the opportunity to escape and explore the pubs in Durban or more likely to hold up the bar at Derby's Corner in the Elangeni until the early hours of the morning. It always was, and still is, the IQSA's biggest event of the year.
Having said that, I was a little disappointed in a few of the papers, which were product-related. The keynote speakers were excellent, especially Theo Venter, who discussed the political landscape today, which he says is "disconfoculated". The keynote speaker on the first day was futurist Pieter Geldenhuys who looked at Business Unusual citing predictions he made at the conference some 13 years ago, with incredible predictions for the future, many of which are happening as we speak. It was great listening to Aspasa's well-respected auditors Alan Cluett and to Marius van Deventer, and to see how our quarries have developed into industry-leading role players. Jacqueline Raputsoe from AEL presented a good paper on Initiating System Conversion, together with Weir's JD Singleton who gave a case study on total cost of ownership experienced by some of his customers.
What I miss most is hearing about the challenges faced by our quarries although I guess the Competition Commission has something to do with this. I recall a marvellous paper presented years ago about Honeydew quarry, in terms of its many challenges in starting up. It would be lovely if our operations would look at sharing this kind of information – because they all experience the same problems. The challenges haven't changed; in fact they are far worse given the DMR's inconsistency in applying its rules and regulations. It would have been nice to have someone from the DMR chat to us about their own challenges, which are many.
The Best Paper awards for 2016 went to Bronwyn Parker from EOH Legal Services on Mining and Environmental Law, Current Issues 2016; with the Best Student Paper going to PPC's Thabile Ntibane on Geological Optimisation – both of which were presented at the Institute's mid-year conference last September.
Simon Tose from AEL has taken over from Deon Bosman as Institute chairman and says one of his key drives during his term of office is to work towards upgrading and improving training for its members; in my opinion, something which has been sorely lacking over the years. MQ wishes him well for his 2017/2018 tenure.