As South Africa's mining and quarrying sector struggles to reduce costs and sustain profitability, Scania's new heavy tipper promises to change the in-pit haulage landscape with its robust, economical and fuel-efficient features.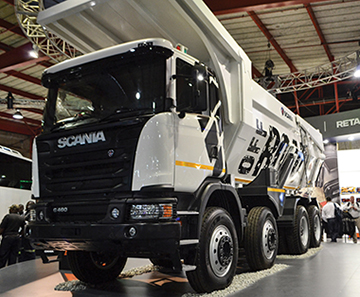 According to Anders Friberg, general manager vehicle sales and export at Scania South Africa, the G460 8 x 4 heavy tipper with a 40 t payload, depending on material being transported and the specific gravity (SG) of this material, will take on the yellow metal machines head on.
"The main areas where the Scania solution will address the yellow metal shortfalls are lower acquisition costs, lower maintenance costs, fuel economy, performance, driving speed and shorter tipping cycles," he says, adding that about 30 units of the previous G410 CB 8 x 4 EHZ are operational in Southern African open pits.
"It has been an exciting step for us to introduce the new mining truck into the local mining sector, as we already have about 3 000 of our various other truck models serving the mining industry in different ways," says Friberg. "The main adjustment for our target markets is for them to see the value of an alternative to the traditional yellow machines – but we are seeing that the market is ready for something different and more cost-effective."
The heavy tipper is certainly built for toughness, delivering a high equipment-to-payload ratio in any type of mining environment; it can be specially tailored for various specific gravities of mineral – and boasts a 25% payload increase.