Aspasa embarked on a new focus in the last quarter of 2017, retaining the acronym only and making Aspasa its brand name. The association is now able to represent a growing and more diverse membership base. MQ catches up with director Nico Pienaar in the second quarter of the year.
Aspasa director Nico Pienaar (Dale Kelly).
Aspasa's work in representing the industry is aimed at creating a safe, sustainable, and level playing field, which has led to organisations outside the quarrying industry requiring assistance and membership. This has resulted in the association adopting the salt and dimension stone industries and taking the Coal Ash Association into its care.
Open to other surface mining operations wanting to take up membership – provided they agree to uphold Aspasa's strict standards and abide by legislation – membership is open to industries which include mobile crushing, formal quarrying/mining, contract crushing, rubble crushing, ash and coal, and borrow pits, among others.
"As far as aggregate is concerned, our members are industry leaders producing the majority of the minerals required for infrastructure," Pienaar says. "We have leading members from the dimension stone, silica mining and the lime producing industries; the clay brick producers are also taking up membership as their needs are very similar to those of the mining industry." Several contractors involved with borrow pits and contract mining have also taken up membership.
The association has been actively assisting its members with training over the past year and while these elements include technical, health and safety, management and environmental training, its ongoing training is more focused on specific elements of operations.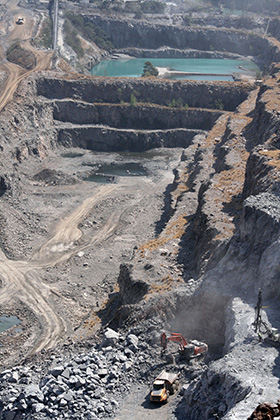 Quarries should lead by example by adopting strict management policies relating to environment, and health and safety (Dale Kelly).
Pienaar says that the technical issues relating to blasting, crushing, equipment, in-pit best practices and road transport are among the training courses offered. "These courses dovetail with our two audit programmes covering both health and safety, as well as environmental standards."
During the course of last year, Aspasa was actively involved in skills development training. Logistical arrangements around scheduling and attendance was not always actively attended as anticipated. "We went through a steep learning curve in this regard," Pienaar says. "However, in conjunction with our main training service provider, we have carried out comprehensive planning work."
Together with Prisma, Aspasa has developed a skills development analysis (SDA) tool which can be carried out at any company. For corporates, the SDA can be held at a central point with the company's relevant training staff, such as the skills development facilitator, trainers, senior training officers, among others. A one-day kick-off workshop allows the company, its various regions and operations to be on the same level.
"The audit is not only for production operations," Pienaar asserts, "but also for small operations and associate members. One this exercise is done, the company is able to decide on how to take the matter further with Aspasa handling the detailed work and ensuring that all procedures, documentation and systems are in place."
What about quarry manager training? MQ asks. "After numerous consultations with mining specialists, we have drafted a generic quarry manager training plan, which can be used across all quarry industries as a baseline in developing potential mangers for the future," he says.
Towards the end of last year, Aspasa held a special training course entitled Competent Person 'A' Training. Explaining this further, Pienaar says that regulations require a competent person to examine and make safe a workplace (Competent Person A) and determine that such competence will vest in a candidate having achieved the requirement of the relevant skills programme registered with the Mining Qualifications Authority (MQA). "The programme has been developed to ensure a period of only four days, with practical assessment carried out at a convenient operation. This ensures that students complete the full course, and on returning to the company, there are no further evaluations or costs incurred by the employer."
This course includes an introduction in terms of the Mine Health and Safety Act and Regulations (Act 29 of 1996). For the purposes of Regulations 14.1 (1) and 14.1 (5), a competent person means someone who has been assessed and found competent to examine and declare a workplace safe. Such competent person must ensure that, if at any time a working place or part becomes unsafe during a shift, that:
All persons, other than those examining and making safe, are removed from such unsafe area.

No persons are permitted to return thereto until declared safe by a competent person.

A competent person must declare a workplace safe before any work can be done and also when the work area changes.
Pienaar says the course was well attended and plans are to run this again in the future.
Prisma is a specialist training service provider to the mining sector. The company was established in 2007 and has trained over 40 000 learners in underground and opencast in mining, team development and supervisor development.
It is accredited for full qualifications, skills programmes and more than 400 Unit Standards with the Mining Qualification Authority (16/MQA/0489/AC4/210814) and is Alpha ISO 9001:2008 certified.
Prisma's aim is to build and maintain lasting relationships by consistently delivering customised and sustainable education, training, and organisational development solutions that are accredited and embody best practice. This ensures that its customers are able to realise a return on investment with increased productivity and efficiency through qualified trained individuals and teams, while operating within the most competent and safe environment.
Prisma is a wholly-owned subsidiary of Workforce Holdings Limited and works closely with sister company Training Force, to bring training solutions to all industry sectors across South Africa and abroad.
Prisma Training Solutions' training director Jacques Farmer has some15 years' experience in HRD and OD in both the private and public sectors. He is a human resource development practitioner, organisational development specialist within various private sectors (Prisma Training Solutions, Audit Campus, Anglo American, South 32, Tharisa Minerals, and Aspasa). He is also an external lecturer at the NWU.
"Having industry specialists like Jacques is what adds invaluable benefits to the courses we provide," Pienaar says. He cites some of the Prisma courses as:
Blasting assistant training

Plan, organise, lead and control activities in the mining operations process

First Aid Level 1

Demonstrate knowledge pertaining to fires in a workplace

SHE representative

Operator skills programme

Collect, store and issue explosives from a surface magazine

Legal liability

Incident cause analysis method

Roles and responsibilities of a production supervisor in a mining environment

Competent A training

Coaching

Outcomes-based assessments
"Safety must be a top priority, especially where large equipment is used or work conducted at heights or where ground falls may occur. We believe that surface mining ticks all these boxes when it comes to working in a dangerous environment," he tells MQ. "This has led to comprehensive legislation being put into place to protect miners in these conditions. Yet, despite the government and companies' best efforts to manage safety risks, the onus still falls largely on individuals to raise the alarm whenever a potential hazard is encountered."
Aspasa is therefore encouraging workers, contractors and mining stakeholders to make safety a priority and to raise the alarm whenever potential risks are observed. Pienaar believes that many preventable accidents can be avoided in this manner leading to further improved safety in this area.
"Whatever the risk, no matter how large or small, it is the individual's responsibility to report risks to a supervisor or the responsible person in the case of a visitor or contractor. This should be done according to a site's specific protocols, unless the matter needs immediate attention in which case it needs to be addressed promptly."
Giving an example, Pienaar says something as seemingly insignificant as faded warning signs may be reported at the end of a shift, but these should be reported to the relevant supervisor timeously to avoid risks, "or when danger is imminent such as a missing guardrail on an exposed conveyor or piece of equipment.
"These immediate actions should be reported and recorded as per the operation's protocols and may further require reporting via safety representatives. Whatever the case is, it is the individual's responsibility to familiarise themselves with these procedures and to act quickly and appropriately to prevent any risks on site."
Aspasa audits
For many years, Aspasa has been running its own audits for member companies, and being a member means that the company has to undergo these audits. The audits are conducted by independent auditors, who are specialists in their fields.
Pienaar says the health and safety audit has its own safety protocol, which is revised annually. "All operations are visited and audits physically carried out, taking about eight hours at an operation. The audit also consists of a walk about, training and then paperwork verification."
The auditor gathers a substantial amount of information, allowing them to nominate member operations for the following awards:
Top performer

Top independent performer

Consistency in achieving Showplace 5 years running

Most improved operations

H&S management awards for outstanding commitment

H&S representative 2017

H&S service provider excellent

Best operations manager
Certificates of achievement are presented to individuals and companies who have shown improvement and performance.
These will be awarded at the IQSA/Aspasa conference on 19 April, the main purpose being to recognise excellence in the fields of health and safety in the surface mining industry.
In terms of the Aspasa About Face environmental audit, Pienaar says the issue of environment at an operation plays a crucial role for a mining licence. "We know that our About Face audit programme is one of the best auditing systems in the world. This year's audits have already started and an important invite has gone out to top and senior management to make the time to sit in on the audit to support of the process, and to show support for their line managers.
"The issue of environmental compliance has become an important part of a mining license holder with the mining license dependent on this. The DMR has also established a specialist division in this regard.
"The audit document has minor changes, and the strategy for 2018 is in getting each operation's focus clear and of value to the company and its employees. A further focus will be the satellite industries housed on a mining area. In the past, these satellite operations have not paid attention to environment issues. What is important is that a contravention at the satellite operation could cause stoppage to the mining right holder, resulting in a costly exercise.
Looking at the year ahead, Pienaar says 2018 has started with a more positive view of the year ahead. He says there are many roles that Aspasa has to play. "The issues of compliance, honesty and anti-corruption is something that we an industry should focus upon, but company executives also need to be award of their individual roles.
"Suddenly here in South Africa, we are seeing that politicians and government executives are being dealt with, and this will escalate to the business world. When getting to court, the expectation is that the executive has taken reasonable steps to ensure that his company is in compliance with legislation."
Discussing due diligence further, he says it is important to keep up to date with the situation and the information applying to one's particular household situation, "and this also includes health and safety and importantly, the environmental side of the business.
"Executives must be able to understand their operation, and to seek assistance in identifying hazards and possible issues. Aspasa is able to do this for our members. They also have to ensure that the people who run and deal with their businesses are skilled and trained and that they fully understand the implications of non-compliance."
He says that as an executive, one should verify facts. "In a recent training course, the advocate and union leader told delegates that one of the first questions that a CEO is asked during an enquiry, is if they had taken reasonable steps to ensure that the MHSA has been properly performed.
"In the fields of environmental and health and safety compliance, we need to ensure that all legal compliance issues are adhered to. As a forerunner in ensuring that at least two of these issues are dealt with properly, we have found that there are companies resisting compliance. We are told that the particular company is conducting its own audits and that training on health & safety and environmental compliance is a waste of money. What is interesting in terms of the audit results, is the clear indication of the companies that are committed and those that are not."
He notes that in terms of management education and training, the industry has tended to concentrate on treating the symptoms, giving priority to the warts while the cancer has gone unchecked. "The environmental content of training courses has tended to be reactive with problems taking centre stage, rather than the avoidance of these problems."
In conclusion, Pienaar reminds members that one of the highest percentage reasons for Section 54s is that of lack of supervision (20% of all 54 issues). "It will therefore be beneficial to focus on this issue.
"Our quarries lead by example and have adopted strict management policies relating to the environment and health and safety, as well as compliance with our own strict requirements. Aggregates are the most used bulk material on the planet and are essential to mankind. The question is not whether we need quarries or not, but rather how we operate them in a safe and sustainable manner.
"The same stands for other commodities such as coal, iron, salt, etc, and we must ensure that red tape and legal complexity does not make the extraction of these materials so costly that it becomes unprofitable.
"As Aspasa, our aim is to continue to raise awareness of the importance of the industries we serve, and the role they play in the development of our country," he adds.
Report by Dale Kelly.