The Next Generation 36-t size class excavators from Caterpillar – the 336 and 336 GC – increase operating efficiency, lower fuel and maintenance costs, while improving operator comfort compared with previous models. The new excavators offer unique combinations of features designed to match contractors' productivity and cost targets.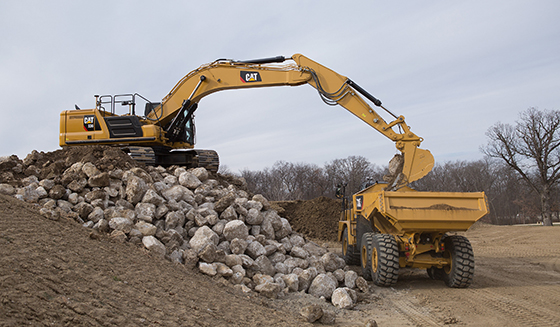 Delivering high-production performance, the new Cat 336 features standard integrated Cat Connect Technology and the most power and lift capacity of the two models. The result is maximum productivity at the lowest cost. The new Cat 336 GC combines the right balance of productivity features with reduced fuel consumption and maintenance costs. The result is high reliability and low-cost-per-hour performance.
The new Cat 336 is said to have the industry's highest level of standard factory-equipped technology to boost productivity. Integrated Cat Connect Technology increases operating efficiency by up to 45% over traditional grading operations.
The standard Cat Grade with 2D system provides guidance for depth, slope, and horizontal distance to grade through the standard touchscreen monitor, making operators more accurate. The system is readily upgradable to Cat Grade with Advanced 2D or Cat Grade with 3D.
Standard Grade Assist automates boom, stick, and bucket movements so operators can effortlessly stay on grade with single-lever digging. Cat Payload delivers precise load targets and increased loading efficiency with on-the-go weighing and real-time payload estimates without swinging to prevent truck over/underloading.
By design, Cat Next Generation excavators produce more work per unit of fuel than the models they are replacing – up to 15% more fuel efficiency for the 336. New Smart mode operation automatically matches engine and hydraulic power to digging conditions, optimising both fuel consumption and performance. Engine speed is automatically lowered when there is no hydraulic demand to further reduce fuel usage.
Offering extended and more synchronised maintenance intervals, the new Cat excavators do more work at a lower cost and reduce maintenance costs by up to 15% over the previous series. The new Cat air filter with integrated pre-cleaner and primary and secondary filters has double the dust holding capacity of the previous design.
The new Cat hydraulic return filter has a 3 000-hour service life – a 50% increase over previous filter. The fuel system filters are synchronised for service at 1 000 hours – a 100% increase over the previous filters. The fuel system water and sediment drains and hydraulic system oil level are positioned close together at ground level, making routine daily maintenance faster, easier, and safer.