In his role as centre director and chairman at the Copper Development Association Africa (CDAA), Evert Swanepoel works with the metal that is at the heart of the electrical industry – copper – which has an infinite recyclable life and is one of the most used, and reused, metals.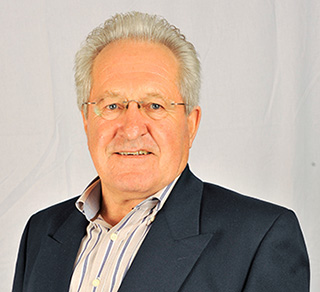 Because copper's recycling value is so great – premium-grade scrap has at least 95% of the value of the primary metal from newly mined ore – one of Evert's tasks is to reduce the export of South African copper and retain it for local manufacturers.
He has a close working relationship with the major players in the electrical industry and has been a driving force behind the CDAA initiative that awards numerous bursaries to deserving young electrical artisans every year.
Sparks: Where were you educated?
ES: I attended Helpmekaar High School in Johannesburg and Brandwag High School in Uitenhage in the Eastern Cape. I went on to complete the Management Development Programme (MDP) at the University of Cape Town and, over the years, I've done enough management courses to last me a lifetime.
Sparks: How long have you been involved in the electrical industry?
ES: I've been indirectly involved with the electrical industry for four years.
Sparks: When and where did you start your career?
ES: I started out as a draughtsman in the 1960s at a steel and aluminium company, Crittall Hope Metal Windows, which was bought out by Wispeco in 1968. I ended up as deputy managing director of Wispeco.
Sparks: What is the greatest change you have seen over the years?
ES: Within the copper industry, it has been the lack of control over the export of scrap copper.
Sparks: What major projects have you worked on and what is your greatest accomplishment?
ES: One of the major projects I've worked on recently has been the successful testing and deployment of antimicrobial fish nets in Cahora Bassa and Richards Bay. Improving the CDAA's relationship with the electrical industry is an ongoing project for me and numerous objectives have been achieved along the way.
Sparks: Have you won any awards?
ES: Yes, I have, but nothing noteworthy.
Sparks: Who has been your inspiration or have you had a mentor who has influenced your career?
ES: I have had the privilege of working with some dynamic senior executives over the years and I have learnt from them all.
Sparks: What, to your mind, is one of the biggest challenges facing the industry at this time?
ES: The biggest challenge is for the CDAA to reduce the export of scrap copper and retain quality scrap copper for the association's manufacturing members. This challenge is made more difficult by the wholesale theft of electrical cable, which is not only destroying South Africa's infrastructure but is fuelling the export of copper scrap.
Sparks: What do you enjoy most about your job?
ES: I enjoy finding new ways to use copper and expanding our membership base; the interaction between the different sectors in the copper industry is always gratifying.
Sparks: How do you motivate your staff?
ES: I would like to think it is by example and sharing with them the company's goals and results.
Sparks: If you could 'do it all again', would you change anything? If so, what would that be?
ES: It may sound strange but I would have liked to have completed an apprenticeship before qualifying in management.
Sparks: Would you advise a person leaving school to enter the electrical industry? And why?
ES: At the CDAA, we are passionate about the development of artisans and annually sponsor the Electrical Contractors' Association's development programmes, the Eskom Young Scientist Awards; artisan development in the photovoltaic industry; and others. There are too many unqualified 'electricians' harming society and the industry. This country needs professional, qualified electricians.
Sparks: What is your advice to electrical contractors and/or electrical engineers?
ES: My advice is to never compromise on quality. And, if in doubt about a product, contact Pierre Nothard at SAFEhouse for guidance. I also encourage electrical contractors and engineers to keep up with new technology. A good place to do this is on our international electrical energy platform, 'Leonardo Energy', which offers the electrical sector a vast information sharing and knowledge base service as well as free online courses and programmes for the electrical industry. www.leonardo-energy.org
Sparks: What is your favourite quote?
ES: "The show must go on."
Sparks: Name three things on your 'bucket list' (things you want to do before you 'kick the bucket'). ES: The three things on my bucket list all relate to work! First, I'd like to put to rest the current explosive situation on scrap exports for the benefit of all; second, to finalise the introduction of antimicrobial copper with Department of Health in order to reduce the unnecessary deaths of thousands through hospital acquired infections (HAIs); and, thirdly, to expand the CDAA network into the rest of Africa.