TAKE IT UPON YOURSELF – WHERE YOU LIVE – TO MAKE PEOPLE AROUND YOU JOYFUL AND FULL OF HOPE ...
Refilwe Mokgosi is the deputy director of logistics and technical services at the City of Tshwane's Energy & Electricity Department and she wears other hats as the AMEU vice-president elect and chairperson of Women in Electricity (WIE).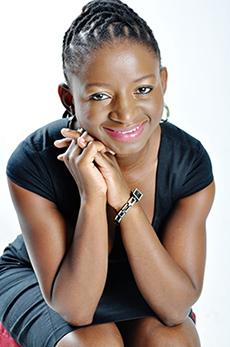 Refilwe is as passionate about improving the electrical industry as she is about gender equality and, as chairperson of WIE, she is fully committed to making a positive contribution towards driving the AMEU mandate in creating an enabling environment for women to participate in the electricity sector. Guided by powerful mentors in the electrical industry, Refilwe is an ambitious and enthusiastic 'student' who works extremely hard to achieve her dreams and to pave the way for future generations of women who will step into the historically male-dominated arena of electrical engineering.
Sparks: Where were you educated?
RM: I attended Winterveld High and Holy Trinity High Schools and did my tertiary education at Pretoria FET College where I completed a National Diploma (Electrical Engineering: heavy current) and passed my trade test, becoming a qualified electrician in 2001. I furthered my studies through Unisa (National Diploma: Electrical Engineering) and I did my B-Tech degree (Electrical Engineering) at the University of Johannesburg.
Sparks: How long have you been involved in the electrical industry?
RM: I've been in this industry for more than 15 years. I have gained broad experience working in various fields, such as maintenance and construction; planning; customer service; field services dispatch; control centres; power stations; and projects.
Sparks: When and where did you start your career?
RM: I started as a learner artisan in 2000 at the City of Tshwane and qualified as an artisan electrician. At that time, the municipality didn't have any positions available so I worked temporarily as a lecturer at Pretoria FET College. In October 2002, I was employed as an electrician for City Power.
Sparks: What are the greatest changes you have seen over the years?
RM: On a personal level, the greatest change has been my progression from being an electrician to where I am today. Generally, there have been an increasing number of women who are choosing to enter the electrical industry and more people within this industry are beginning to accept and welcome women as colleagues.
Sparks: What major projects have you worked on and what is your greatest accomplishment?
RM: One of the major projects I'm proud of was when I was still working for Ekurhuleni Metropolitan Municipality and we built substations and electrified over 20 000 households in the Palm Ridge area. To have been part of building such an auspicious legacy for so many people was one of my most humbling experiences.
Sparks: Have you won any awards?
RM: I haven't won any awards per se but my dedication and attitude have earned me the title of 'best employee' in most of the positions I have held.
Sparks: Who has been your inspiration or have you had a mentor who has influenced your career?
RM: I have had several mentors: at Ekurhuleni Metro, Serutle Ntlatleng and Hannes Roos; at City of Tshwane, Frans Manganye and others; and, through AMEU, I have learnt a great deal from women such as Jacqueline Chauke (head of electricity at Lesedi municipality), Bertha Dlamini (MD at EON), Neli Magubane (MD at Matleng Energy Consulting) and Sy Gourrah (GM at Actom). What continues to inspire me is the huge gap that still needs to be tackled in order to transform this male-dominated industry.
Sparks: What, to your mind, is one of the biggest challenges facing the industry at this time?
RM: Technically, we are faced with capacity constraints and, as a country, we still have a huge backlog of new customers who have to be connected to the grid. There is still a need for utilities to integrate renewable energy and the grid. Electricity supply is a major source of revenue and, if utilities are not ready to deal with this integration, there will be long term challenges ahead for those utilities.
Gender equity and the empowerment of women are still challenges and we are working to ensure that we nurture and develop a rich pool of skilled women to bridge the gap.
Sparks: What do you enjoy most about your job?
RM: What fascinates me is that I get to do the things I enjoy the most: standardising and rationalising technical specifications and annual contracts for the procurement of cost-effective electrical equipment for the construction; as well as maintenance and safe operation of the electricity distribution infrastructure in the City of Tshwane. I'm also involved in the development of standards, monitoring and research on new technologies in the industry; contract management; and compliance. I enjoy representing City of Tshwane within associations such as AMEU; WIE; the Power Institute for East and Southern Africa (PIESA); and the South African Bureau of Standards (SABS) and working closely with internal and external stakeholders.
Sparks: How do you motivate your staff?
RM: I ensure that everyone takes responsibility for their work and I include them in decision-making processes. Because I'm task-driven, I set targets and deadlines that allow them to 'spread their wings'. I try to equip each person so they can perform optimally.
Sparks: If you could 'do it all again', would you change anything? If so, what would that be?
RM: I wouldn't change anything. I believe that everything happens for a reason and believe that I am where God has purposed me to be.
Sparks: Would you advise a person leaving school to enter the electrical industry? And why?
RM: Yes, I would. Electricity is a technology that never stops advancing, never stops evolving and never stops generating. I would urge them to work hard and do well, knock on those doors, and find mentors who will guide them. We have already begun the process of carving the way to make it easier to enter the electrical industry – especially for young women – and we will continue to do so.
Sparks: What is your advice to electrical contractors and/or electrical engineers?
RM: Electrical contractors should invest in the right skills and resources to ensure that they deliver a first-class service and earn a good reputation. Electrical engineers should familiarise themselves with standards and policies and keep up-to-date with new technologies.
Sparks: What is your favourite quote?
RM: "Take it upon yourself – where you live – to make people around you joyful and full of hope." - Nelson Mandela.
Sparks: Name three things on your 'bucket list' (things you want to do before you 'kick the bucket').
RM: My bucket list is long but the first three that will come under consideration in the near future are: do an ironman triathlon; climb Mount Kilimanjaro; and become a motivational speaker.