Electrobase, the largest group of independent electrical wholesalers in Southern Africa, held its 18th annual Supplier of the Year awards dinner on Friday 10 November at Emperors Palace. The prestigious event was attended by wholesalers and suppliers from around the country and Zimbabwe, who took the opportunity to network, catch up with industry news and have some fun.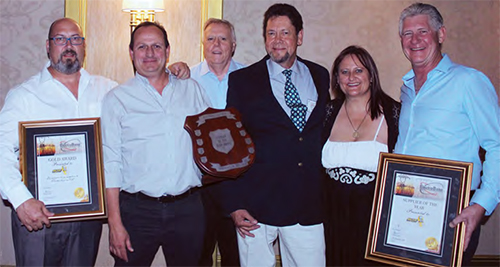 Major Tech won a Gold Award and the coveted 'Supplier of the Year 2017' Award. Seen here from left to right are Werner Grobbelaar, Wayne Ternent, Howard Earley, Ian Greyling (Electrobase Chairman), Donne van Eeden (Electrobase CEO) and Pat Shaw (CEO Major Tech).
"Emperors Palace turned out to be a wonderful venue," said Donne van Eeden, CEO of Electrobase and Enerji Electrical, "and what made it more special was the fact that Electrobase held its first AGM there 18 years ago".
Many of the wholesaler's buyers also attended the 2017 dinner and they were invited to join a tour of the facilities of some of Electrobase's Johannesburg-based suppliers during the course of the day, prior to the evening event. This proved to be a great success as many of the buyers had not seen the impressive facilities of many of the suppliers.
Donne congratulated all the suppliers on their awards, with a special mention to Major Tech, which celebrated its 25th anniversary earlier this year, and which received the award for overall Supplier of the Year.
Silver Awards went to Eurolux, Kwikot-Electrolux and LEDVANCE while Gold Awards went to Brightstar Lighting, Crabtree, Enerji Electrical, Hellermann Tyton, Major Tech, Radiant, Stone Stamcor and Waco. Crabtree was also awarded the 'Most Improved Supplier' award.