Explosives supplier BME is well placed to take advantage of a recovery in the mining sector, having focused over the past couple of years on a range of initiatives designed to enhance overall operational excellence. "The company is in very good shape and more than maintaining its position in a highly competitive explosives market," says Joseph Keenan, Managing Director of BME. "We're already seeing the results of all the hard work we've put in and we're more than ready for the upturn in mining that we're hoping to see in the year ahead."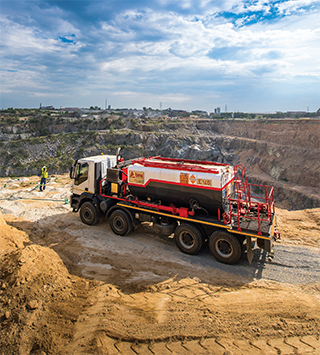 Part of the JSE-listed Omnia Group, BME is one of the 'big three' explosives suppliers in South Africa but is also well diversified geographically with operations both in the rest of Africa and in key overseas markets such as Australasia and the Americas. It is housed within the Mining division of Omnia which accounted for just under R2,5 billion of the total R7,7 billion in revenue recorded by Omnia in the six months ended 30 September 2017.
Results for the Mining division (which also includes Protea Mining Chemicals) over the reporting period were impressive, given the state of the mining industry, with revenue up 2 % and operating profit up 21 % (on an operating margin of 13,5 %) over the equivalent period of 2016. "We're very pleased with the performance we've put in," says Keenan. "Market conditions have been very challenging so to achieve the results we have is very encouraging."
Discussing some of the initiatives undertaken by BME over the past couple of years, Keenan says the company has made a major investment in automated manufacturing, put in place a strong quality control drive and also taken steps to restructure the manner in which it conducts its research and development (R&D) and subsequently manages the commercialisation of products.
Elaborating on the R&D programme, Keenan says that it is now being managed through an Innovation Hub whose goal is to ensure that BME's very substantial investment in research and product development – which has given it a high reputation for innovation – is focused more closely on the needs of customers.
"We need to align our R&D with the very real challenges our customers face," he states. "If they're mining deeper, for example, we need to look at how we can best deliver explosives to the face, in the shortest time and at the least cost; if they're having issues with reactive ground, then we need to respond. This is what the Innovation Hub is about – ensuring that our R&D programme is geared to coming up with solutions and products that deliver real benefits to our customers."
He adds that the Innovation Hub works closely with BME's Product Management Group, another relatively new creation within BME. "In essence, the idea is for the Innovation Hub to feed newly developed technologies, tools and products into the Product Management Group, which is then tasked with taking them to market in the shortest possible time with all the right support in place," he explains.
Reviewing the past year, Keenan says that a particularly positive development has been BME's increasing penetration of the underground market. "We derive the bulk of our turnover from open-pit mining but we're determined to grow our underground business. We have put a great deal of effort into ensuring that we have a full suite of products and systems for underground mining – for example, our new underground mobile pumping system for narrow reef mining and our new Central Blasting System (CBS), which brings the benefits of our AXXIS electronic blasting system to underground operations – and this has resulted in the award of some significant contracts.
"We've also, of course, introduced our rapid emulsion delivery system, which is designed to deliver emulsions underground seamlessly without tying up the cage," he continues. "The system was developed over a three-year period in partnership with the Modder East gold mine. The installation at Modder East – which has a 318-m vertical emulsion pipeline, the longest in the world – is the only one we've completed thus far but we're in advanced discussions with other mines who are interested in the system."
The Modder East installation delivers emulsion from surface to storage tanks underground. Used with BME's narrow reef pump technology, it has allowed the mine to move away from the use of cartridge explosives. Advantages of the system include increased shaft availability, streamlined delivery of emulsion to operating sections, reduced labour requirements and accurate recording of explosives distribution from surface to underground.
In the open-pit space, BME continues to be a credible player, both in South Africa and the rest of the continent. "We're particularly pleased with the progress we're making in Zambia, where we're supplying the explosives to some of the biggest copper mines in Africa, and in West Africa, where we have a good concentration of business, which is reflected in the fact that we now have eight emulsion plants in the region," Keenan says. "Our latest success is B2Gold's Fekola open-pit mine in Mali, which has just recently been commissioned and which is on its way to being one of West Africa's biggest gold mines."
BME has a full-service contract at Fekola encompassing both the supply of explosives and the blasting. It has established an emulsion plant with a capacity of 3 000 tonnes/month at the mine site and has also deployed four 20-tonne emulsion trucks, as well as a stemming truck. Blasting will be undertaken using the AXXIS system.
Apart from Mali, BME is active in several other countries in the West Africa region, including Guinea, Burkina Faso and Mauritania and sees considerable potential in Côte d'Ivoire, where the gold mining industry is showing good growth.
On the subject of AXXIS, Keenan says that the product is doing very well with sales having doubled in the last year. "We see AXXIS as being central to our continuing geographical diversification into overseas markets, which we regard as essential to the future of the company. We already have a joint venture in Australia that manufactures and markets the electronic detonators, which has proved very successful, and we've recently taken our first steps into the US market, where six very successful test blasts have recently been conducted using AXXIS. The American blasting experts who participated in the tests were very impressed by the system."
He adds that one of the tests was close to a hospital in downtown Atlanta, Georgia and demonstrated the system's ability to minimise vibration levels and fly rock. All the blasts, in fact, which also included a housing development site and a road-widening project, were performed within the legal vibration limits set by the authorities.
Closer to home, the AXXIS system was employed in September 2017 in a record-breaking blast at the Kansanshi mine in Zambia. The blast involved 6 690 electronic delay detonators (the most ever used in a single blast anywhere in the world), consumed 400 tonnes of emulsion explosives and moved approximately 455 000 bank cubic metres of material. All the holes were single primed, with a set-up that included nine different shots, 18 slave blasting boxes and one master box. Interestingly, the operation was undertaken 'in house' by the mine's own personnel, underscoring BME's claim that the AXXIS system is extremely user friendly.
BME is currently working hard on the next generation of AXXIS and expects to commercialise it later this year. According to Keenan, it has some very high-tech features – which he describes as "4th industrial revolution technology"– and will represent a step change in blast optimisation.
Finally, and looking at prospects for BME, Keenan says the company is expecting pricing pressure to continue and also has concerns over the proposed new Mining Charter, which could inhibit growth and investment in South Africa's mining sector. "Having said this, we're generally positive about 2018. We have seen some improvement in commodity prices in recent months and we believe this momentum will be maintained in the year ahead."
Photos courtesy of BME.